Coffee May Be Perking Up
01/17/2013 7:00 am EST
Focus: COMMODITIES
The coffee futures market has been in decline since May 2011, losing half its value from the $3.08 per pound high last reached in 2010. Greg Harmon of Dragonfly Capital makes a technical case for why it may have finally bottomed.
From a purely technical perspective there are signs that the bottom in coffee (JO) may be in. The daily chart below is where the signs first show up. The three rounded bottoms, in the price, Relative Strength Index (RSI) and Moving Average Convergence Divergence indicator (MACD) all are giving a buy signal. It is a cautious buy as the price has been above the 20 and 50 day Simple Moving Averages (SMA) in the past (look to July and October) before starting the next leg down.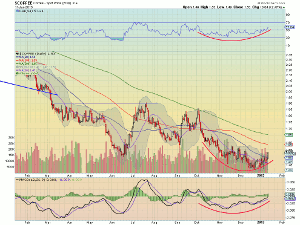 Click to Enlarge
A move up over 1.59 would give it some strength and then over the 200-day SMA would likely get many bullish as it has not maintained above that indicator since September 2011. A starter position seems right. Moving out to the weekly chart shows that the latest bounce is happening at the 78.6% retracement of the major run higher from 2008 through 2011. This support is also resistance from late 2009 into 2010. If it were going to reverse somewhere this is a natural place to happen.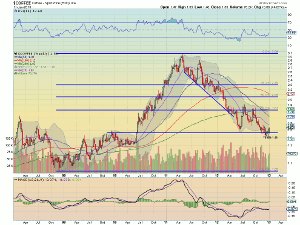 Click to Enlarge
The RSI and MACD are supportive of upside here too, but all of the SMA are above the price and pointing lower. This picture also says be biased higher but be cautious. There is a lot more to be said about the possible bottom but my friend JC Parets said a lot of it yesterday. You can read his thoughts on it here.
By Greg Harmon of Dragonfly Capital