Heating Oil is Heating Up
02/14/2013 7:00 am EST
Focus: FUTURES
A snowy February in the Northeast had heating oil rising to its highest level in four months, but it seems to have hit a wall, so Frank Ochoa of PivotBoss.com examines the chart for clues on its next move.
Heating oil futures have been on the move, but now the commodity is sitting just below significant resistance. Here's more…
Resistance
The daily chart of heating oil futures shows price has experienced a solid run of strength over the last four weeks, rallying from a low of 2.9858 in January to a recent high of 3.2575 in February.
However, heating oil has run right into a major wall of resistance at 3.26, which has been a significant zone since September of last year. Each of the two prior attempts at 3.26 has resulted in extremely bearish reversals, so we'll want to watch how price reacts to this level this time around.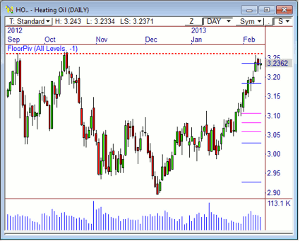 Click to Enlarge
Double Inside Day
The daily chart also shows that heating oil has formed a double inside day setup. This pattern forms when the current day's price range falls within the prior day's price range, and the price range from two days ago falls inside the range from three days back.
In essence, this pattern can spark significant breakouts. Watch the price range from Tuesday's trading for a potential breakout ahead—3.2198 down, and 3.2486 up.
Floor Pivots
Price is currently sitting right at the monthly R2 floor pivot, which is significant. On average, price usually closes within the R2/S2 price band around 70 or 80% of the time.
As a matter of fact, heating oil has only tested R2 four times since the beginning of 2012, and has only once closed above it during this time.
Therefore, we could see a reversion to the mean type of move ahead, whereby price drops back toward R1, and potentially as low as the top of the pivot range at around 3.106.
If price happens to break beyond the 3.26 resistance level, there is a two-year resistance level above at 3.32, which should be an upside target to watch.
By Frank Ochoa of PivotBoss.com