Trades for a Seesawing Market
04/10/2013 7:00 am EST
Focus: ETFs
The market is in the throngs of a tug-of-war whose outcome will be obvious only in hindsight, but whichever way it goes, it will influence these ETFs and their components, writes Fil Zucchi on Minyanville.
For the last several months I've written about the SPDR Oil & Gas Exploration & Production ETF (XOP), as well as the iShares Biotech Index Fund (IBB). Over the last month, both registered DeMark exhaustion levels on different time frames, but the way each reacted to those signals has been very different.
On a daily basis, the XOP printed a combo countdown sell ("CCS") approximately three weeks ago, and shortly thereafter it took out the associated risk level at $61.59. As DeMark has it, the breach of the risk level invalidated the CCS. However, just because an exhaustion pattern fails, it doesn't mean that we can't have a "failure of a failure" so to speak. And that's what seems to have happened in this case. Since March 15, the XOP has underperformed the S&P 500 (SPX) by more than 5% and in just five bars over the last week, it pierced through the TDST level down support at $57.49, before making a late-day recovery on Friday. When prices break TDST levels early in a buy/sell setup, it's generally a heads-up that not only has the trend changed, but it has changed in convincing fashion. The XOP TD refclose down price for Monday was $57.49. That and the TDST level down are important prices over the next few days as I try to sort out if the current correction is the beginning of something bigger. On the weekly chart, the XOP printed a price flip, which sealed a TD megaphone 7 sell signal at $63.55. The megaphone indicator is a very useful reference point for high/lows on longer time frames.

Click to Enlarge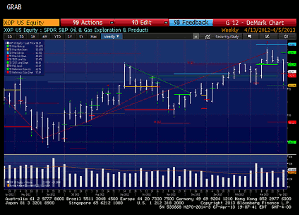 Click to Enlarge
A different story has developed for the IBB. After registering its own CCS in early March, the corresponding risk level was broken and the price surged upward to complete a new CCS, as well as establish a new concurrent TD sell setup count, currently on bar 7. The risk level for the latest CCS sits at $168.39. Two bars ago, the IBB printed a CCS on the weekly chart as well, with a risk level of $159.13. That level was taken out on a closing basis on Friday, suggesting that there is more to go in this bull move.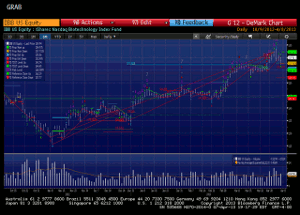 Click to Enlarge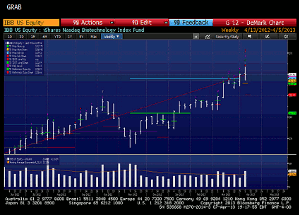 Click to Enlarge
Shorting the XOP and going long the IBB would be the straightforward approach to playing these patterns, but looking inside the makeup of each ETF, I found some pairs that appear to create better risk/reward trades.
The juice behind the rise in the IBB has been provided primarily by very powerful moves in some of its biggest components, namely Regeneron Pharma (REGN), Celgene (CELG), Amgen (AMGN), and Biogen (BIIB). Other names with decent weighting in the ETF have been lagging, even though their chart patterns look very good as well. Among the best laggards is Alexion Pharma (ALXN). On a daily chart, the price is above TDST level up while just on bar 5 of a TDST sell setup. A qualified break of level up would argue for an extended up move. Counts are similarly bullish on the weekly chart; and on traditional chart patterns one can see a bullish pennant on the daily chart, and a bullish continuation pattern and inverse head and shoulder on the weekly chart.
Other bullish consolidation/count patterns appear on Vertex Pharma (VRTX) and fundies favorite BioMarin (BMRN). I like pairing an IBB short against some of its better situated components.
The same goes for the XOP. Here, my favorite longs are Gulfport Energy (GPOR) and Halcon Resources (HK), both of which have very strong fundamental stories. Other attractive buy candidates are Rex Energy (REXX) (with several Utica wells near GPOR's), and pure gas plays Ultra Petroleum (UPL), Bill Barrett (BBG), and Cimarex Energy (XEC), particularly if it pulls back closer to $65.
I am deliberately staying away from discussing the broader market action, and how it may impact the ideas above, because my sense is that the market is in the throngs of a tug-of-war whose outcome will be obvious only in hindsight. Whichever way it goes, of course, the market will influence the XOP, the IBB, its components, and, by definition, just about everything else. So factor that into your stance whether directionally or in the size of your positions.
By Fil Zucchi, Contributor, Minyanville