Swing Trading List for Shorting Stocks
04/30/2013 7:00 am EST
Focus: STOCKS
Ryan Mallory of SharePlanner.com shares some short trade ideas, should the current bullish market conditions change on a dime.
Some people might worry about the market selling off just a small bit, particularly when you couple it with what we have seen out of the GDP report that came out. Frankly, I am not concerning myself much with the GDP. Not by choice, but because the markets really don't care about the economy.
At this point, it isn't the market's job to discover that this economy sucks, because it already knows it sucks and not getting better anytime soon. But what it also knows is that it will continue to rise as long as the Fed willingly chooses to prop it up, and run their quantitative easing (QE) programs as well.
With that said, I still keep a short watch list just in case market conditions do change. I want to be prepared, and always be ready to flip at a moment's notice from being bullish to bearish, if need be.
Of the three setups that I like the best are Valero Energy (VLO), which has managed to sell off and the retest the underside of a head-and-shoulders pattern. M&T Bank Corp (MTB) has undergone a nice distribution phase followed by the first wave of the leg down. Recent price action has allowed for it to retrace back to resistance offering a solid risk/reward setup. Brookdale Senior Living (BKD) has a near perfect head-and-shoulders pattern that has recently confirmed and now is forming a bear flag on the daily chart that is also confirming at the time of this post.
Here's the rest of my short watch list.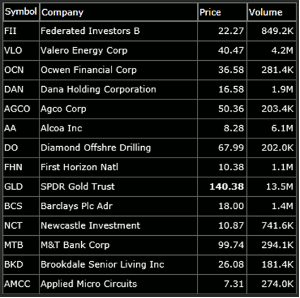 Click to Enlarge
Don't fight the trend, as that never wins, but let the price action that you see before you dictate how you trade and in which direction.
By Ryan Mallory, Founder, SharePlanner.com