Are Traders Too Negative on AAPL?
06/17/2013 9:00 am EST
Focus: STOCKS
Great trading opportunities often come from catching one group of traders off guard, and Joey Fundora of DowntownTrader.com thinks that conditions are ripe for that to happen with Apple.
I've been pretty down on AAPL since Steve Jobs' passing, and the stock has been in a clear downtrend since topping out in autumn of 2012. I've had very little interest in trading it other than a handful of scalps, and I still think its best days are behind it. AAPL has had an incredible run as both a stock and a company, no doubt about it, but there is only so much a company this huge can grow.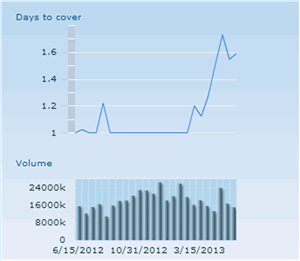 Click to Enlarge
That being said, it seems AAPL is finally falling out of favor with many traders as well. I've noticed much more bearish comments on the Stocktwits stream recently on anything related to the stock, and this was considered blasphemy just a year ago. Despite correcting from over $700 per share to the low $400s, the stock remains heavily shorted (in comparison to prior short interest). Short interest is down over the past two months, but still much higher than last year at this time. Retail traders are often most bearish too late and short interest spiked in November 2012 and then again in April 2013 (both pivot lows).
Interestingly enough, AAPL was up most of last Tuesday despite the market being quite weak. This comes one day after most investors were disappointed with Apple's WWDC announcements. I pay attention when a stock doesn't go down on perceived negative news and then shows strength on a poor day.
While its hard to feel confident in a stock that is still in a downtrend and well under its 200-day moving average, AAPL is starting to show some signs of a possible bottom on the daily chart as well. In looking at the chart below, you can see that AAPL cleared the downtrend line that has held prior rally attempts over the past seven months. While this is not an all clear, it shows that downward momentum is slowing.
AAPL is also working on an inverse (reverse) head and shoulders base, which is a common bottoming pattern. While the pattern has not come to fruition yet, it is fairly well developed. AAPL has also been holding above its 50-day moving average as it builds the right side of its base and it is forming a clear level of near-term support. If it can clear the right shoulder, AAPL would present a great opportunity to catch bears off guard and squeeze higher.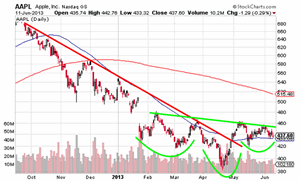 Click to Enlarge
Often, great trading opportunities come from catching one group of traders off guard, and this is a case where that can happen. Traders should not get too confident, as AAPL is still bearish overall, and the odds are just as good that it continues to head lower. However, there is an opportunity here for a great long trade if the markets cooperate.
By Joey Fundora, Trader and Blogger, DowntownTrader.com