This Week's Stocks to Watch
07/09/2013 7:00 am EST
Focus: STOCKS
Ryan Mallory of SharePlanner.com shares some of the stocks on his current long watch list.
I'm back from my brief stint with vacation. Believe it or not, it was the first time in about three and one-half years since I took my last one. It felt great camping with the family despite the non-stop rain for the entire vacation's duration. With that said, a result of last week's vacation is that I wasn't able to post my current long and short watch-lists as I typically do.
A few names to keep an eye on are Automatic Data Processing (ADP) and any kind of pullback to the $70 level. I love the action in that name and want to be long if it makes that move.
Endeavour International (END) has created a nice base for itself of late, and any move above $4.00 should flash a buy signal.
Finally, Google (GOOG), while I am long in it from $872.67, it has an emerging double bottom pattern that is ready to confirm and breakout higher as a result.
These are just a few of the names that really stick out on my watch-list, but there are plenty more stocks on the list below that are worth considering.
Here's the full watch-list.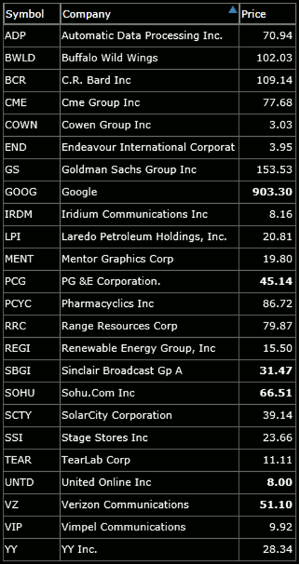 Click to Enlarge
Don't fight the trend, as that never wins, but let the price action that you see before you dictate how you trade and in which direction.
By Ryan Mallory, Founder, SharePlanner.com