Proceed to Checkout Now
07/12/2013 7:00 am EST
Focus: STOCKS
With its stock trading near an all-time high, Ryan Mallory of SharePlanner.com makes the case for why it's time to sell this tech giant and book some profits now.
I've made some nice coin off of Amazon.com (AMZN) over the past year.
However, if there ever was a time to sell the stock, right now is the time.
The last seven times, we have seen the stock sell-off dramatically for at least two-three weeks every time the weekly chart of AMZN has broken hard through the upper Bollinger Band.
That is history and consistency I don't want to mess around with.
Here's the breakdown on Amazon (AMZN):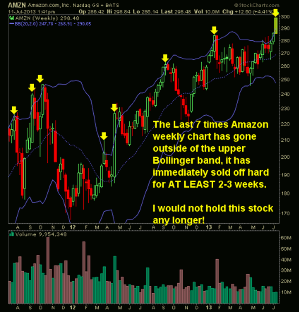 chart courtesy of StockCharts.com
Click to Enlarge
I don't currently have a position in this stock, but I will consider trading it short at the start of next week, especially if it fails to break through and hold the $300 level at the end of this week.
When stocks are as bullish as Amazon (AMZN) has been, it can be hard to imagine a strong two-three-week retraction, but mark my words, it is going to happen, and happen very soon.
By Ryan Mallory, Founder, SharePlanner.com