3 Seasonally Hot ETF Sector Trades
07/18/2013 7:00 am EST
Focus: ETFs
The seasonal tendency is for the market to rally from late June until September, and Stoyan Bojinov of ETFdb.com identifies three sectors that could outperform in the months heading into the year end.
Summer weather is here and you're either smiling about it or sweating it out. Corporate earnings have taken over the headlines as investors look to digest quarterly performance results from industry bellwethers in light of recent talks of the Fed potentially scaling back on stimulus efforts. Amid the ongoing bull run, clouds of uncertainty have started to gather over Wall Street, as volatility has historically made the summer months quite bumpy for the buy-and-hold crowd.
As such, below we outline three seasonally attractive sector trades that have historically generated handsome returns starting in August and running into the start of the new year. Please note that these recommendations are based on historical research compiled by the Stock Trader's Almanac.
1. Internet
The NASDAQ is back on the radar screen after a sluggish start to the year thanks to Apple's (AAPL) lackluster performance. More specifically however, technology equities are picking up steam as this is historically a very "green" time to be invested in online bellwethers; historical data shows that the Internet sector in particular has averaged returns upwards of 25% from the beginning of August through the beginning of January over the last 15 years. Investors can tap into this trend through the popular First Trust Dow Jones Internet Index Fund (FDN), which boasts over $1 billion in total assets under management.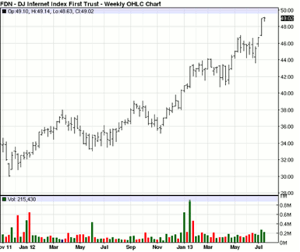 Click to Enlarge
2. Medical Devices
Healthcare stocks have been a clear leader on Wall Street, thus far, on the year and bullish momentum likely isn't going away any time soon here; according to historical data, medical device and healthcare product manufacturers have returned roughly 11% over the last 15 years between August and February. Investors can jump aboard this seasonal trend through the iShares Dow Jones Medical Devices Index Fund (IHI), which is already sitting on hefty gains YTD.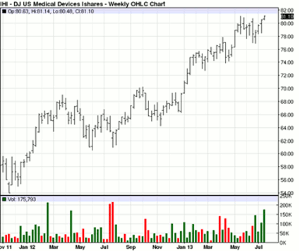 Click to Enlarge
3. Biotechnology
The biotech corner of the healthcare equities universe, not surprisingly, also has a favorable track record going into the summer and end-year stretch; according to data compiled by the Stock Trader's Almanac, the biotechnology sector has raked in roughly 28% over the last 15 years during August through January. Investors have a handful of options when it comes to establishing biotech exposure, with the most popular instrument being the iShares Nasdaq Biotechnology Index Fund (IBB).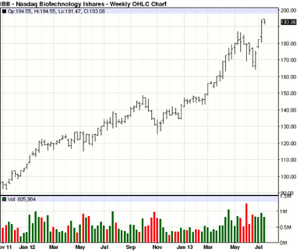 Click to Enlarge
As always, investors of all experience levels are advised to use stop-loss orders and practice disciplined profit-taking techniques:
By Stoyan Bojinov, Contributor, ETFdb.com