ExxonMobil Powering Up
07/22/2013 7:00 am EST
Focus: STOCKS
Sexier tech companies tend to hog the headlines, especially during earnings season, but as Greg Harmon of Dragonfly Capital shows, a "boring" energy behemoth is cruising higher, leaving the techies in the dust.
The market is all a flutter with Google (GOOG) and Microsoft (MSFT) losing their 30 billion in market cap after they reported earnings that did not meet expectations. In other news though, the largest company in the world, ExxonMobil (XOM), broke short-term resistance and is headed toward levels it has not seen in over 12 years.
This stock is often described as an aircraft carrier. It is so big it takes a while to turn an aircraft carrier the saying goes. What that means for ExxonMobil is that if it can get into the clear, it may be that first $500-billion company. Take a look at the weekly chart. There is room higher on the relative strength index (RSI), the moving average convergence divergence indicator (MACD) is turning higher and the accumulation/distribution is continuing to build.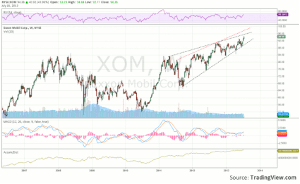 Click to Enlarge
The only bad thing on this chart is the possible rising wedge. That, on its most conservative drawing, gives room higher to 96 and on the red version to 98. But both of those are artificial resistance, and without previous price history, at least not for more than 16 years. The monthly chart shows the real potential for a move longer term. A break and hold over 96 has virtually no previous price history up to 111.25 and then none at all above that.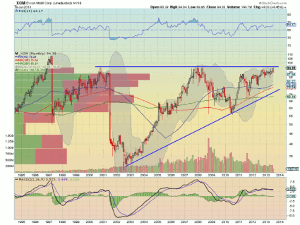 Click to Enlarge
It stands to reason that it may take some time to get through 96, but when it does, 111.25 is a big move. But the broader pattern, an ascending triangle, suggests that there is a potential move higher in the pattern to 160. Make what you will of it. Aircraft Carrier. No resistance. And a 2.7% dividend yield. We are long October 95 Calls and October 85/95 bullish risk reversals (both since May) at the time of this writing.
By Greg Harmon of Dragonfly Capital