The Social Media SmackDown to Follow
08/21/2013 7:00 am EST
Focus: STOCKS
Moby Waller of BigTrends.com offers an undervalued social media pick that would not likely cross your radar when thinking of companies in this sphere.
In the wake of the market-cap valuations for social media companies like Facebook (FB) and LinkedIn (LNKD), as well as content providers like Disney (DIS), there is a company to watch right now in my view that combines an immense amount of original content with a large global and social media presence, as well as a loyal and growing fan base.
It is World Wrestling Entertainment (WWE). Note that this is a bit more of a fundamental outlook than the chart-based technical analysis that we specialize in. I've owned the stock previously in the past and recently put on a new long position in it.
I am a long-time fan and observer of the 'rasslin' business, and in my view right now WWE is going through one of its creative resurgences—the kind that will boost popularity, exposure, and revenues. I'd wager the recent Summer Slam pay-per-view (PPV) did very large numbers, showing this emerging trend.
WWE content and programming has been aconsistent long-lasting hit on various TV networks (mostly cable). 52 weeks a year of fresh content that has high ratings and obviously is popular with the younger demographic (and they have done a good job over the years of bringing adults fans back into the fold—the current upswing in content value may help accelerate this in the coming quarters as well).


Their social media presence is massive, whether Twitter, Facebook, YouTube, apps or many other measures—this part of the company is likely undervalued in my view.


They also have anew hit 'reality' show on E! network, Total Divas that looks to be a big cable hit and will gain them more mass media exposure as well as reach to females and other groups that aren't "traditional" wrestling fans.


The global reach of WWE is also probably underestimated in terms of brand value and growth potential in the future. According to the company, they are broadcast in 150 countries, 30 languages and reach more than 650 million homes worldwide.


And don't forget about merchandise, toys, video games, films, etc—there a lot of ancillary properties that they generate revenues from.


They own virtually the entire stock of trademarks and vintage video of the history of wrestling, a library which generates revenues from places like DVDs and OnDemand.


Some might have succession questions about when the legendary CEO Vince McMahon is too old to run the company effectively—however in my view his daughter Stephanie combined with her husband, wrestler/exec VP Triple H (Paul Levesque), are proving themselves to be a strong team to take the company forward in the future.


On the international front, WWE seems to be particularly popular in parts of Europe, Japan, Canada, Mexico, Australia, and the Middle East/Israel. This indicates to me untapped potential future growth opportunity in China, India, Africa, as well as South America—some of which they've already begun to tap. The product/brand seems to work everywhere in the world, similar to the NBA and soccer/football.


NEXT PAGE: More Room to Run
|pagebreak|
Taking a quick look at the fundamentals of the stock, I've always been impressed that they have zero debt—currently a nice 4% to 5% dividend. The profit margins and ROA/ROI measures aren't as high as one might expect or I would prefer (below 10%), which perhaps could indicate that they could be increased down the road through management effectiveness, cost-cutting, etc.
The market cap of WWE is currently around $750 million…but if you think of this as a global social media content company, I think it could be worth more in the $2 to $3 billion range…this doesn't mean that the stock is immediately going to that area however. Think about this for comparison…while one NBA franchise (which also has global reach and mass appeal) is worth over a billion, according to Forbes, the WWE 'franchise' is worth less than that currently.
Let's take a quick look at the WWE stock chart from a nearer-term and longer perspective:
WWE Daily Chart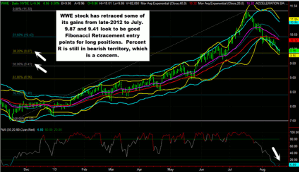 Click to Enlarge
You can see on the above daily chart that WWE shares were on a nice run from November/December 2012 until July of this year. They have since pulled back rather sharply—however, there are likely key support areas around here that provide long entry opportunities. A Fibonacci retracement of that uptrend gives 9.87 as a support level (right around where the stock currently is). Beyond that is the important 50% retracement level at 9.41. As we've discussed previously, whether or not you care or understand Fibonacci mathematical sequences, a 50% retracement is a "logical" area for a pullback to pause and/or resume another upleg. It's one we see occur time and again on the charts. The negative note for pause here is that percent R, which is one of my favorite daily chart technical indicators, is still in bearish territory on the stock.
Now take a big picture look at the shares from the weekly chart below:
WWE Weekly Chart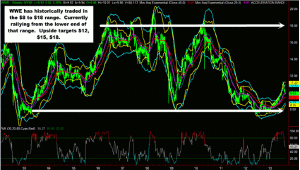 Click to Enlarge
You can see that WWE has clearly been a range-bound stock for some time. Roughly, the $8 to $18 range has held over the past 10 years. Currently, we're coming off of the low end of that range, and percent R here has been in bullish territory. Fairly obvious upside targets are the $12 level, $15 area, and longer-term up to $18. Remember with such a low-priced stock, a $2 move is around a 20% gain while a $5 move is a 50% gain.
And this doesn't include any kind of market-cap valuation expansion, or unexpected growth of revenue/profit outlet that the company may find in the future.
Moby Waller, Co-Portfolio Manager, ETF Tradr Program, BigTrends.com