Will Crude Move Higher and Will It Help Stocks?
08/29/2013 7:00 am EST
Focus: COMMODITIES
With everyone jumping on the Syrian crisis bandwagon on the crude price spike, Greg Harmon of Dragonfly Capital, points out that it's got nothing to do with that.
Crude oil had a major day Tuesday. You will read everywhere that it drove higher on tensions in Syria. I am pretty sure that we get no crude oil from Syria but ok, whatever. You might also read that fear of the Syrian situation spilling into Iraq and the rest of the region, where they do produce oil caused the jump. Well that, at least, sounds more plausible, but frankly I do not care.
Crude oil has been consolidating a move higher from $94/barrel for six weeks. It could also be that the sellers just got done selling and there are still more buyers. The chart below shows that the move above 108 carries a measured move higher to 120. That looks enticing to take a position in crude oil itself.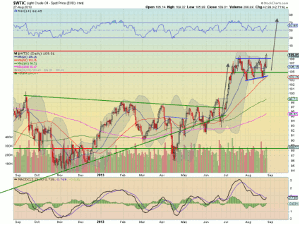 Click to Enlarge
But the story may get better for market participants. That is because the S&P 500 (SPY) has also gone through that period of consolidation (blue box). The SPY broke it lower a couple of weeks ago and that has been a sore spot for many equity players and 401k owners. What makes the move in crude higher more interesting is the long-term correlation between crude oil and equity prices.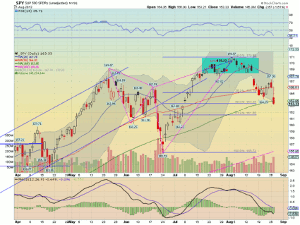 Click to Enlarge
Take a look at the final chart, the ratio of crude oil to the S&P 500. Outside of the crude oil spike from 2007 to 2008, crude oil and equities move in the same direction.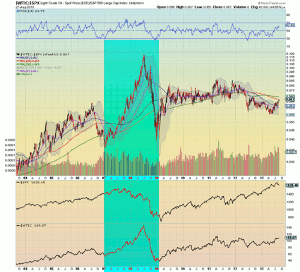 Click to Enlarge
So, unless this is the start of a spike much higher in crude oil, this would drag equity prices higher if the long-term correlation holds. Time will tell.
By Greg Harmon of Dragonfly Capital