One Pro's Stocks to Short in September
09/06/2013 7:00 am EST
Focus: STOCKS
Ryan Mallory of SharePlanner.com shares some of the stocks on his current short watch list.
It's amazing the difference a day can make for the market—the motivating factor to this market rally isn't so much that the dynamics of the market has changed but that the market is squeezing the shorts one by one.
Now, if the same thing happens again where we open up strong—I think a much larger chunk of the bears out there are going to be taking their profits as well as fear will set in that the recent market sell-off is just another bear trap like it was back in June.
From my watch list below—keep a close eye on this Vivus (VVUS)—it has got itself one wicked double top at work and a bear flag in the short-term that is confirming as well. I already mentioned my disgust for Angie's List (ANGI), which is a textbook head and shoulders opportunity there.
Here's the rest of the list: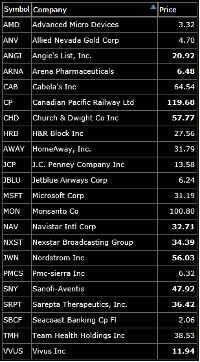 Click to Enlarge
There's also Cabela's (CAB), which I love to visit and shop at—but no way am I going long on it with the undeniable double top that is confirming in that name as well.
Finally, there's Church and Dwight (CHD)—don't short this one yet—because it is due for a bounce—but once it starts to consolidate just below the neckline of the double top that it has formed over the last eight months—then you short it with a greater reduction of risk as a result.
By Ryan Mallory, Founder, SharePlanner.com