5 Top Stocks from 2013's Top Sectors
09/13/2013 7:00 am EST
Focus: STOCKS
Sometimes a particular industry is so hot that it comes to define an entire era of market trading, writes Julian Close of MarketIntelligenceCenter.com.
Personal computers, the Internet, and mobile phones each in turn produced intense periods of rising stocks. What makes 2013 different is the sheer number of highly hyped industries filled with frothy stocks that trade at staggeringly high valuations. When stocks are all zooming higher every day, it is very hard to sort out the good from the bad, which makes the market's recent pause the ideal time to do so.
The industries I refer to are solar power, 3D printing, cloud computing, Chinese Internet, and touch-sensitive-panel display. No industry stays frothy forever, and whether you have been betting heavily on the success of one of these industries, all of them, or none of them, this is the perfect time to re-examine the fundamentals. In most cases, if you are holding a significant amount of stock in these industries, you should take at least some of your profits and move it into less volatile stock.
So, will these industries, so hot in early 2013, be just as hot in late 2013? Read on; some of the answers may surprise you.
Solar Power
Two years ago, it was the Chinese solar industry that was on fire, and the Chinese boldly used their strength in an attempt to corner the world's solar panel market. Production capacity was raised, a glut appeared on the market, and prices fell through the floor. While some American and European companies failed, most held on. It eventually became clear that the Chinese had over-reached, fouling their own nests in the bargain.
The revenge of the American solar power industry began when Warren Buffett, through his MidAmerican Energy Company, bought three massive solar plant projects, the 550-megawatt Topaz, from First Solar (FSLR) in December of 2012, then two Antelope Valley plants from SunPower (SPWR), with a combined output of 579-megawatts, in January of 2013.
FSLR Daily Chart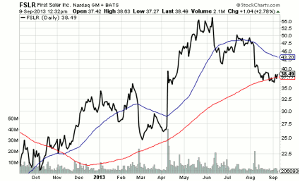 Click to Enlarge
SunPower stock is up 275% year-to-date, while SolarCity (SCTY), a solar company founded and run by Elon Musk and noteworthy for its creative financing options, is up 140%. But the play here going forward is the industry leader, First Solar. First Solar is up only 17% year-to-date, and its price has fallen from $56.40 in June to just $38.42 today. While you should buy FSLR for growth, not value, it is worth noting that with its P/E of 10.2, this company's valuations are not at all out of whack. More importantly, however, First Solar has the best technology in the industry. By using cadmium telluride panels rather than more standard crystalline silicon, First Solar has lowered the production cost of solar power to $0.68 per watt, while its competitors have yet to break the $1 per watt threshold.
3D Printing
3D-printing stocks are very much in play this year, with hype coming from many directions at once. Some are excited (and no doubt, some horrified) by their (apparently) demonstrated ability to produce working firearms, while others focus on the possibility of printing new bodily organs, though this is, at present, pure science fiction. What has actually happened this year is that the long-promised and much-hyped technology is finally mature enough to support viable specialized businesses, in addition to streamlining many behind-the-scenes industrial processes. Given the potential upside in 3D printing, it is no wonder that 3D printing companies have become a staple in the portfolios of many a speculative investor.
Various supporting technologies, including Microsoft's pledge to support 3D printing in future versions of Windows 8, a 3D pen from 3Doodler, and the arrival of affordable desktop 3D printers all lend credence to the idea that 3D printing is no fad, but will be an integral part of a great many industries for a long time to come.
SSYS Daily Chart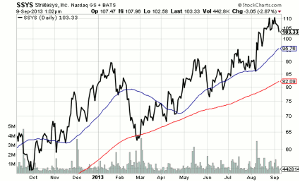 Click to Enlarge
Industry leader 3D Systems (DDD) is up 40% year-to-date, though its main competitor, Stratasys (SSYS), which is only up 30% year-to-date, appears to have even better growth prospects. Though traditionally focused on the industrial side of the business, recent acquisitions ensure that Stratasys can compete against 3D Systems across the whole range, including at the small business level, with its popular Mojo desktop 3D printer.
NEXT PAGE: 3 More Top Stocks from 3 Top Sectors
|pagebreak|
Cloud Computing
If the broad market in 2013 has been dazzled by solar power and 3D printing companies, the IPO market has been thoroughly dominated by cloud computing companies, 13 of which have gone public in the last 18 months. The industry lacks high barriers to entry, and so far at least, each additional company, by varying the business model slightly, seems to energize the industry, rather than cannibalize the revenues of others.
AKAM Daily Chart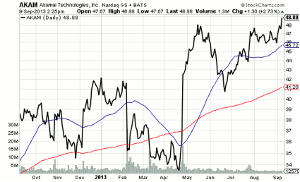 Click to Enlarge
The biggest player in the industry is SalesForce.com (CRM). CRM stock is up 15% year-to-date, giving SalesForce.com a market cap of $25 billion. While prospects appear good for the company, I don't feel that its 2014 P/E of 93.9 is in any way justifiable. If you want a taste of the potential upside in this industry, pick up shares of Akamai (AKAM), which has a far more reasonable 2014 P/E of 21.87. AKAM stock is up 26% year-to-date, and the company has a market cap of $8.7 billion. As the original content distribution network for Netflix, Akamai has shown that it has the technology to deliver streaming high-definition video over the Internet nearly flawlessly. Though Netflix is moving away from Akamai, Akamai's proven technology means it will be in high demand as the battle to replace paid cable-TV with streaming video heats up.
Chinese Internet
Everyone has been convinced in 2013 that something big is happening in the Chinese economy, but there is no real consensus yet as to whether it is something good or bad. While recent numbers show solid growth, they also show continued increases in debt and what appears to be a speculative real-estate bubble. What no one denies is that 2013 marks the beginning of a massive outbreak for many Chinese technology companies, including Baidu (BIDU), a search engine, its rival SINA (SINA); Qihoo (QIHU), an anti-virus company; privately owned Alibaba, an online retailer; and upstart social platform YY (YY) just to name a few. With a market consisting of half a billion homes and a middle-class as large as America's, growth prospects for Chinese companies appear nearly unlimited.
BIDU Daily Chart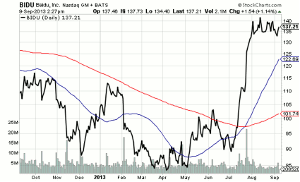 Click to Enlarge
There may be no such thing as complete safety when investing in Chinese companies. The lack of a free press, coupled with heavy government involvement in industry, means there is always the chance that things are not what they seem. The upside potential is truly fantastic however, and could prove to be well worth the risk. My favorite pick, beyond a doubt, is BIDU, a company that is now large enough, with a market cap of $47 billion that government manipulation would seem to matter little. Given the huge upside potential, BIDU's 2014 P/E of 22 looks absolutely reasonable.
Touch-Sensitive Panel Display
Touch sensitive panels have quietly become the hottest thing in computers, as they are the default I/O for smartphones. There have also been hints, notably from Apple and Dell, that full-size touch panels may be integrated into future PCs, but that idea is starting to look less and less realistic. Sadly, the most promising company in this industry doesn't trade on US indices. I refer to Samsung, which, unsurprisingly, makes the touch-sensitive displays for its own phones, and, until the iPhone 5, made them for Apple as well.
ATML Daily Chart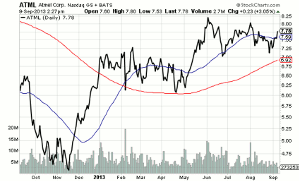 Click to Enlarge
Companies with viable touch-screen technologies are often bid up quite high by the market. Sometimes, much too high, such as Uni-Pixel (UNXL). In April, with UNXL trading at $34, I warned here that it was one of the five most overbought stocks in the entire market; it trades today at just over $18. Atmel (ATML), a company that makes the circuits for touch processors, looks like a better buy. Though it offers a full range of semiconductors and not just touch-panels, it has steady earnings and revenue growth and a 2014 P/E of only 13.4. Also, you can pick ATML up at $7.78 per share.
By Julian Close of MarketIntelligenceCenter.com