Make or Break Time for Yahoo!
09/16/2013 7:00 am EST
Focus: STOCKS
For the first time in over five years, this tech giant's stock price topped $30, and technician Corey Rosenbloom of AfraidToTrade.com examines the technical evidence to see whether it can continue this breakout.
With the break to new recovery highs today in Yahoo (YHOO) shares after a stellar recovery, we focus our attention on the "will it or won't it" continue the breakout or else pullback once again with a trap.
Let's take a look at the daily chart "make or break" key level and put this in the context of the broader picture: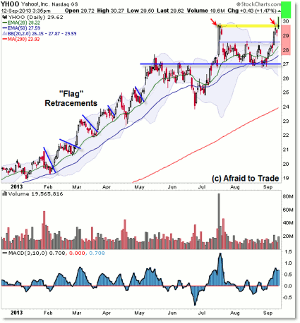 Click to Enlarge
The key focal point for traders is the current $29.50 to $30.00 per share level, which reflects the July breakout highs and the current breakout—and reversal candle Thursday—above then beneath the easy-reference $30.00 breakout level.
Just like July, we saw a sharp spike higher, only to see price return quickly toward the $27.00 polarity or lower support trendline.
We'll be using IF/THEN planning with respect to this level.
A breakout and sustained movement up away from $30.00 per share "should" lead to additional tradable, pro-trend upside action in the context of the weekly chart (below).
Otherwise, if we see another return under $30.00—a bull trap—then we may be anticipating or trading a movement back to the $27.00 per share confluence (this is best seen on the daily chart above).
Here's the broader weekly chart pro-trend structure: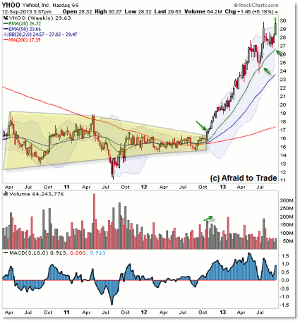 Click to Enlarge
After a multi-year compression or consolidation pattern (yellow highlight), shares broke powerfully above the $16.50 and $17.00 per share level on higher buy-volume and upside momentum.
The breakout—and new bullish uptrend—continues to this day where we encounter the current "make or break" price level into $30.00 per share.
Yahoo's share price has doubled from the $15.00 per share midpoint value area or central price of the compression pattern.
Whether you're trading Yahoo shares or just following along for a "walk forward" real-time educational example of how to plan for a "breakout or trap" situation, continue following the short-term activity relative to the $30.00 per share focal level.
By Corey Rosenbloom, CMT, Trader and Blogger, AfraidToTrade.com