7 Stocks Set to Print Profits
09/27/2013 7:00 am EST
Focus: STOCKS
The 3D printing market looks poised for further growth, and in this space, Stephanie Reyes and Emily Smykal of Kapitall.com found seven stocks to watch.
3D printing isn't exactly old news, but it's been around long enough that everyone from biotechnology firms to fashion designers have found innovative ways to "print" their products. With the overall 3D printing market expected to triple in value into 2018, investors should take stock of the technology's many uses.
Biotechnology has already utilized 3D printing capabilities, including using a patient's living human cells to replicate organs that the body can accept. Some laboratories are even printing sheets of skin for skin grafting procedures, and they predict that within the next five years the skin transplant method will be used in hospitals for burn victims and other patients who require extensive skin grafts.
And bioprinting has made its way into more cosmetic applications. A prime example is the story of Eric Moger, who lost half of his face to cancer. After a life-saving surgery to remove an aggressive tennis ball-size tumor on the left side of his face, he was unable to speak clearly and had to be fed through a tube. A silicon prosthetic, created through 3D printing technology, was created and placed over the hole in his face.
The food industry is also experimenting of 3D printing—making cakes with printed letters and logos, printing icing directly onto cupcakes, even producing "domes of turkey on a cutting board." Instead of using human cells or materials like silicon as the "ink," any raw food of liquid consistency (think melted chocolate) is loaded into the printer.
3D printing has even infiltrated the fashion world—just recently Dita Von Teese debuted a dress printed by designer Michael Schmidt and architect Francis Bitonti. Designed based on a digital model of Von Teese's body, the final product was a malleable net-like nylon structured garment that moved with the wearer. This gown is the first fully articulated garment made using 3D printing. Schmidt and Bitonti are planning to continue their collaboration, shifting to a collection of 3D printed jewelry.
As 3D printing continues to gain traction and publicity across industries, is it wise to invest in major 3D printing companies, or even a company specializing in bioprinting? We compiled a universe of stocks engaged in developing 3D printing and related services, and screened them for high growth, measured by expected earnings per share (EPS) growth over the next five years. EPS above 15% is considered high-growth, and a signal that investors see strong long-term growth potential.
Below are seven stocks involved with 3D printing, sorted by their predicted EPS growth over the next five years.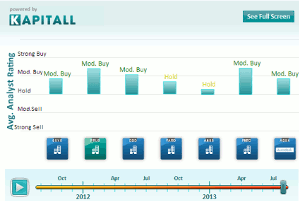 Click to Enlarge
Do you see investment opportunities in 3D printing? Use the list below as a starting point for your own analysis.
1. Stratasys Inc. (SSYS): Engages in the development, manufacture, and marketing of three dimensional (3D) printing, rapid prototyping (RP), and direct digital manufacturing (DDM) systems primarily in North America, Europe, and the Asia Pacific. Market cap at $4.27B, most recent closing price at $110.04. EPS growth over the next five years: 30.5%
2. Proto Labs, Inc. (PRLB): Manufactures computer numerical control (CNC) machined and injection molded custom parts for prototyping and short-run production. Market cap at $1.82B, most recent closing price at $71.87. EPS growth over the next five years: 30%
3. 3D Systems Corp. (DDD): Engages in the design, development, manufacture, marketing, and servicing of 3D printers and related products, print materials, and services. Market cap at $5.B, most recent closing price at $51.90. EPS growth over the next five years: 20.4%
4. FARO Technologies Inc. (FARO): Designs, develops, manufactures, markets, and supports portable, software driven, 3-D measurement systems used in a range of manufacturing, industrial, building construction, and forensic applications. Market cap at $648.53M, most recent closing price at $37.93. EPS growth over the next five years: 20%
5. Ansys, Inc. (ANSS): Engages in the development and marketing of engineering simulation software and services used by engineers and designers in aerospace, automotive, manufacturing, electronics, biomedical, energy, and defense industries. Market cap at $8.01B, most recent closing price at $86.29. EPS growth over the next five years: 17%
6. Parametric Technology Corporation (PMTC): Develops, markets, and supports product lifecycle management (PLM) software solutions and services that help companies design products, manage product information, and improve product development processes worldwide. Market cap at $3.26B, most recent closing price at $27.29. EPS growth over the next five years: 16.3%
7. Autodesk, Inc. (ADSK): Provides design software and service solutions to customers in architecture, engineering, and construction; manufacturing; and digital media and entertainment industries. Market cap at $8.45B, most recent closing price at $37.89. EPS growth over the next five years: 13.25%
By Stephanie Reyes and Emily Smykal of Kapitall.com