Scanning for Stocks on Extended Runs
10/25/2013 7:00 am EST
Focus: STOCKS
Running these scans can become starting points for you to do other research to see whether trading opportunities exist based on your strategies, writes technician Corey Rosenbloom of AfraidToTrade.com.
Which stocks have closed the most days to the upside for the prior few weeks and also days? How might we trade these stocks?
Let's take a look at the "most consecutive closes to the upside," starting with the weekly chart scan: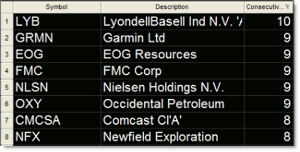 Click to Enlarge
Using TradeStation data and screener, we find the following stocks have closed eight, nine, or 10 weeks in a row to the upside.
We're scanning for "persistence of uptrend" or "extended runs" for relative strength.
Garmin (GRMN) is a selected stock which we can see has closed nine weeks in a row to the upside: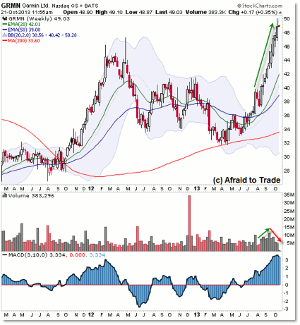 Click to Enlarge
There's two ways we use this type of stock screen, which is similar to how we use the screening for stocks most extended from their 200-day SMA.
Trend following or pro-trend traders can identify the stocks as the "strongest and getting stronger" category for potential pullback (retracement or bull flag) entry trades with the expectation of a future higher price high (trend continuation).
Fade or reversal-style traders instead can await for an immediate sell-signal (such as a break in a rising trendline or intraday reversal pattern) to establish a short-sale/fade (or reversal) aggressive trade.
Depending on your risk-tolerance and preferred trading style, you're either "betting" on an "extended stock to get more extended" or an "extended stock to retrace/reverse" lower to end the extended run.
Here's the same type of scan using daily chart data: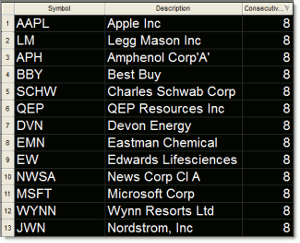 Click to Enlarge
Popular stock Apple (AAPL) joined the "Eight Club" of stocks that have traded eight days in a row to the upside: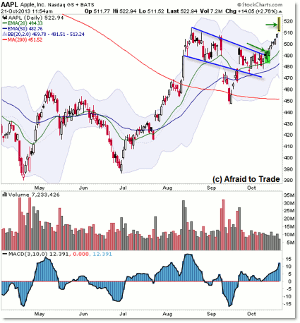 Click to Enlarge
As is often the case, we tend to see extended runs after a breakout or consolidation formation as a stock enters a "positive feedback loop" where buyers enter new positions and short-sellers buy-back to cover old (pre-established) positions via stop-losses.
Best Buy (BBY) is another "strong and getting stronger" stock that I initially mentioned on a "stocks most extended from their 200d SMA" screen from July 2013—it continues to be strong and getting stronger.
Technology giant Microsoft (MSFT) also tops today's list of extended runs along with financial companies Charles Schwab (SCHW) and Legg-Mason (LM).
Use these names and the "consecutive close" scans as a simple way to find stocks that may not otherwise show up on more advanced stock screens.
By Corey Rosenbloom, CMT, Trader and Blogger, AfraidToTrade.com