Catch Profits in a Falling Apple
12/30/2013 7:00 am EST
Focus: STOCKS
Having a bearish opinion on Apple is like hating puppies, and babies, says Greg Loehr of OptionsBuzz.com.
How could you hate something so cute and lovable? You're instantly ridiculed (for having your own opinion). But we've pointed out in this blog on a couple of occasions where outlandish price projections pretty much signaled tops in the stock.
This time, instead of bullish projections, I came across a bearish projection based on the theory of market bubbles. This chart is courtesy of RyKnow, a member of Stocktwits.com.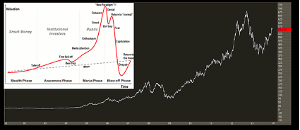 Click to Enlarge
You all know my reverence for Burton Malkiel's A Random Walk Down Wall Street, which discusses market bubbles in detail. I happen to like the assessment here that Apple (AAPL) may very well be heading lower, completing the bubble cycle. Remember, I never profess to be an analyst of any sort, but here are a two "man on the street" observations to go along with the chart:
1. Steve Jobs is unfortunately gone. And so is his vision and genius. No offense to Tm Cook or anyone else at Apple. I'm a loyal fan. But Jobs is simply irreplaceable.
2. The company started paying a dividend. When a company starts to pay a dividend, that tells me that they no longer think they can efficiently put that money to work. The "growth" stock becomes an "income" stock.
If AAPL is truly in the 'return to normal' phase, don't gripe about it and be the bullish cheerleader that rides the stock back to the bottom. If you can't beat 'em, then join 'em. Right?
The question is how to play AAPL to the down side. I'll be looking at ideas over the next few days and weeks.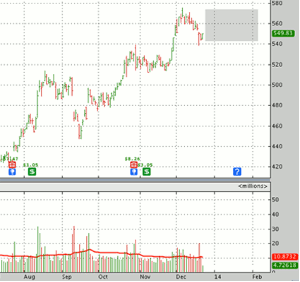 Click to Enlarge
See that grey box? If the stock starts to muddle around that area, that might be the trigger to look at some bearish trades.
By Greg Loehr of OptionsBuzz.com