Achtung Baby, Part Deux
02/10/2014 8:00 am EST
Focus: STOCKS
The mixing two different languages notwithstanding, Greg Harmon of Dragonfly Capital highlights another chance to buy into the German market.
A little more than a week ago I noted an opportunity in the Germany market. The set up ended up failing so I took my stop loss and moved on. But I remain interested in the German market and see it gave another buy signal Thursday. And this one comes with some added firepower behind it. The chart below shows the bottoming that took place earlier this week at the 100-day simple moving average (SMA). The two doji candles followed by a confirmed reversal Thursday. This offers a trade opportunity against a stop under Tuesday's low. The technical momentum indicators are mixed with the MACD continuing lower but maybe flattening, while the relative strength index (RSI) has bottomed and turned back higher.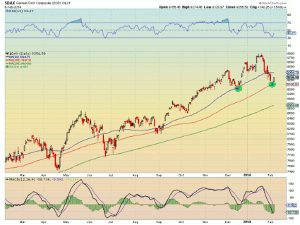 Click to Enlarge
And this is where is looks better than the previous set up. This time the low in the RSI was below the low in the RSI in December, but the low in price was higher than the December low. This is called a positive RSI reversal and it targets a move higher equal to the last move, or in this case to 9881. That makes for a reward to risk ratio of 3.37 to 1 against the previously mentioned stop. This translates to the German ETF (EWG) as stop around 29.10 against Thursday's closing price at 30.10 and looking for a new high over 31.93.
By Greg Harmon of Dragonfly Capital