A Merger Mania Play
02/21/2014 7:00 am EST
Focus: STOCKS
Technician Corey Rosenbloom of AfraidToTrade.com analyzes the price action of two high-profile companies vis a vis a merger/acquisition news event.
Last week it was announced that Comcast (CMCSA) made a merger play for Time Warner Cable (TWC), subject to approval, and the stock prices had a relatively predictable immediate outcome.
Shares of Time Warner (the company proposed to be acquired) surged on the news while the price of Comcast (the company proposing the merger) gapped lower on the announcement.
I wanted to take a closer look at the daily charts and similar uptrends of these companies, particularly because Time Warner (TWC) and Comcast (CMCSA) both topped the list on my intraday bearish trend day stock scan, which I found interesting.
Let's take a look at the trend, immediate aftermath, and key levels to watch in both these stocks.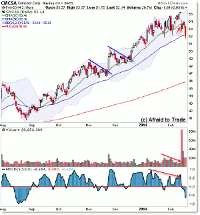 Click to Enlarge
For Comcast (CMCSA), a prevailing chart uptrend took the price from the August 2013 swing low of $41.00 per share to the $55 level ahead of the merger news.
Volume surged above 80 million shares as price gapped down—after divergences had developed at the highs—beneath the 20-day EMA.
Price traded down Wednesday into the rising 50-day EMA near $52.00 per share, which will be our key focal point.
Note the prior price support lows—almost like a small rectangle pattern—into the $52.00 per share level. Comcast (CMCSA) extends a bearish retracement (sell trigger) under this level.
Let's compare that action with Time Warner Cable (TWC):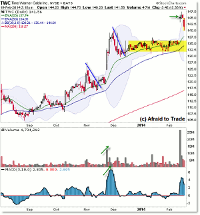 Click to Enlarge
Time Warner (TWC) gapped up on the news, only to retrace half of the gains, so far, and we may see a full retracement and return of the yellow rectangle region.
We would say Time Warner (TWC) is returning "back to earth" or down through an open-air chart pocket potentially toward the prior value area rectangle pattern near $136 per share.
Bullish volume in Time Warner (TWC) surged above 25 million shares on the merger news day.
Similarly, TWC enjoyed a strong bullish price uptrend from the August low into $105 per share to the recent gap-high into $147.50.
For Time Warner (TWC), the key focal point will be the rectangle or value area high near $135/$136 per share.
To those traders interested in studying the post-merger news price action, here are their intraday charts: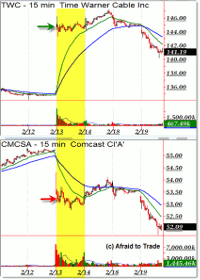 Click to Enlarge
Generally, the company making the acquisition play experience a sharp down-gap in their stock price (Comcast) while shares of the company being acquired (or at least on the news of a possible merger/acquisition) gap higher on the news.
That was true for this example, yet both names have retraced and traded lower than the initial announcement day levels.
Again, both companies topped Wednesday's stocks in strong bearish intraday trends list together, as seen in the sell-off trigger under $144.00 in Time Warner and $53.00 in Comcast.
While these companies do provide potential trading candidates (note the daily chart levels), it's also a good educational example of two high-profile companies on a merger/acquisition news event.
By Corey Rosenbloom, CMT, Trader and Blogger, AfraidToTrade.com