5 Outperforming Tech Stocks to Watch
03/04/2014 7:00 am EST
Focus: STOCKS
The Federal Reserve remains committed to tapering its monthly debt purchases, sending waves of positivity across markets, notes James Dennin on Kapitall.com.
One sector in particular that is expected to benefit from tapering is technology, as these stocks can perform disproportionately well when the economy is getting stronger, or even just perceived to be.
This seems like a reasonable expectation to have: if people think the future will be better, they are more likely to be comfortable making bets on that future. Financial services stocks work in a similar way, because they profit the most when everyone is making money.
Investing Ideas
We decided to find investing opportunities based on the Fed's tapering policies, and their impact on tech stocks. To develop this screen, we started with a universe of tech stocks listed on the NASDAQ, and removed all companies not based in the US.
And since more nimble companies benefit disproportionately from an inflationary environment, we narrowed our list to only include small- and mid-cap stocks, with a market capitalization between $100 million and $2 billion. Ideally, these would also be companies producing technologies that aren't familiar to most consumers yet.
Next, we limited our results based on price. Since institutional investors rarely consider stocks that are priced below $10 a share, we decided to take a page out of their playbook and excluded any stocks below that price point. But we also wanted a list of stocks that aren't too expensive, so we removed any trading above $50.
With these basic parameters in mind, we turned our attention growth metrics. We looked for stocks with exceptionally high performance, of over 100% for the year in 2013. But it was a stellar year for the stock market as a whole, and this still left us with a larger list—21 companies.
So we added one final parameter: high projected EPS growth for the next five years. This indicates that Wall Street believes the firms in question are working in a space where they have access to a growing market.
With a screen this detailed, just five tech stocks remained on our list.
The List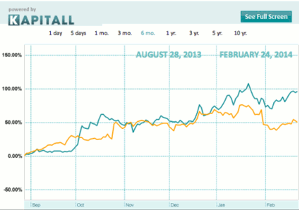 Click to Enlarge
CalAmp Corp (CAMP) is a wireless and mobile technology company that rallied immensely at the end of the year, mostly on the back of Q4 earnings that were well above expectations. Its price to equity ratio (P/E) is fairly low at 26.45, possibly because the company lowered its earnings projection for the start of 2014.
However, executives explained on an earnings call that this was mostly because Q4 earnings were so high, few within the company thought they could beat it. CalAmp's main leverage is its MTM software, which facilitates cloud-based communication between devices, an industry that's expected to grow from 10 billion devices to 50 billion by 2020.
Constant Contact (CTCT) is in the email and digital marketing space, and has benefitted enormously from a wave of consolidation in the sector.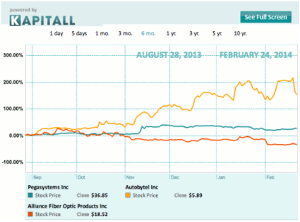 Click to Enlarge
Pegasystems (PEGA) is a software and office infrastructure company that offers a suite of products and consulting services to its customers that compete with the likes of IBM (IBM) and Oracle (ORCL). A recent important acquisition of Antenna Software, which develops mobile applications, will allow them to better compete with the giants in this space. The move fueled bullish sentiment on the stock, sending it on a 106% gain for the year. Though the stock is pretty expensive with a P/E ratio above 40, it also pays a healthy dividend.
Autobytel (ABTL) is another one of the year's top performers, and an interesting small-cap company that specializes in the marketing of automobiles. They develop websites for automobile manufacturers and retailers, as well as provide services to people who are looking for lenders. Autobytel has benefitted enormously from America's recovering auto sector, and is up 332.1% for the year.
It will be interesting to see how the company reacts as many of the biggest automakers roll back their sales projections for next year. One can see the company moving alongside auto stocks—however there is also a case to be made that Autobytel would benefit from an environment where strapped consumers prefer pre-owned rather than new vehicles.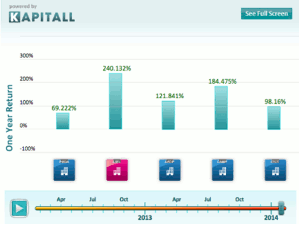 Click to Enlarge
Unlike other companies on our list, Alliance Fiber Optic Products (AFOP) doesn't have to compete with any huge competitors. Most of the companies that make fiber optic products and components are in the small-to-micro-cap range, but Alliance is on the larger end, relatively speaking, at $297.92M market cap.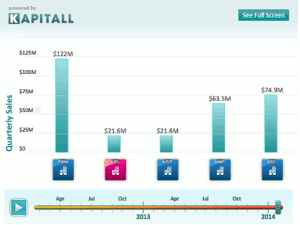 Click to Enlarge
Alliance has by far the best performance and is up 184% for the year. Though it only claims about 200 customers—mostly communications equipment manufacturers—Alliance might be a good play for value investors. The stock offers a high dividend for the sector at 0.91%, and appears undervalued based on a forward P/E of 13—despite such high returns in 2013.
Returns and quarterly sales sourced from Zacks Investment Research, all other data sourced from Finviz.
By James Dennin of Kapitall.com