5 Stocks for the Spring Thaw
03/11/2014 7:00 am EST
Focus: STOCKS
As winter ebbs, gas prices are apt go to up, so we found five refining stocks that are primed for warmer days, notes James Dennin on Kapitall.com.
Gas prices are about to go up significantly as refineries shut down many of their facilities for routine maintenance. People drive a lot more in the summer than they do in the winter, and most gas companies use a lower-emission grade of fuel during warmer months.
Businesses are used to this cycle. Gas prices fluctuate seasonally, so companies are used to factoring in a maintenance period with wider margins when the gasoline supply is squeezed. Maintenance is expected to peak in this month when about 10% of the US oil supply is offline—just in time to turn the engines back on for the spring.
Suncor (SU), which will keep its plants open throughout the first half of the year, stands to benefit from this trend.
Other beneficiaries include firms in the oil-refining sector. Investors can reasonably expect companies that refine oil into gas will benefit disproportionately from higher gas prices.
We decided to build a list of stocks in the refining and marketing industries that have high operating margins. Operating margins are the company's revenues left over after expenses but before things like fines and legal fees. Given that the margin on a barrel of gasoline is expected to rise by almost three fold between now and April, these companies are worth following in the coming months.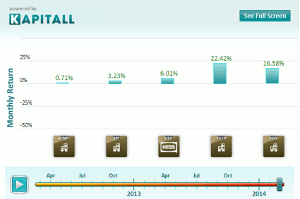 Click to Enlarge
1. Access Midstream Partners, L.P. (ACMP): Owns, operates, develops, and acquires natural gas, natural gas liquids and oil gathering systems, and other midstream energy assets in the United States. Market cap at $10.02B, most recent closing price at $56.22. Operating Margin: 25.2%
2. BP Prudhoe Bay Royalty Trust (BPT): Operates as a grantor trust in the United States. Market cap at $1.72B, most recent closing price at $79.90. Operating Margin: 99.4%
3. Hess Corp. (HES): Operates, develops and acquires primarily fee-based crude oil, refined petroleum product and natural gas liquids pipelines and terminals and other transportation and midstream assets. Market cap at $2.88B, most recent closing price at $40.92. Operating Margin: 57.6%
4. Phillips 66 Partners LP (PSXP): Operates, develops and acquires primarily fee-based crude oil, refined petroleum product and natural gas liquids pipelines and terminals and other transportation and midstream assets. Market cap at $2.88B, most recent closing price at $40.92. Operating Margin: 57.6%
5. Renewable Energy Group, Inc. (REGI): Produces biodiesel in the United States. Market cap at $374.72M, most recent closing price at $10.27. Operating Margin: 12%
By James Dennin of Kapitall.com