Gold & Copper: Perfect Together
03/20/2014 7:00 am EST
Focus: COMMODITIES
Technician Greg Harmon of Dragonfly Capital offers a "pairs trade" idea based on two precious metals that have been topping headlines lately.
On one side, copper (JJC) did nothing but move sideways for a year until it took a nose dive last week. On the other side, gold (GLD) has been on fire since the beginning of the year and testing resistance. Two clear trends, well on their way. If you are not in them then you probably feel like you have missed the boat. But put the two together and there is an opportunity for a trade.
The ratio chart below of copper against gold had been in a descending wedge until it also fell hard a week ago. The move took it outside of the Bollinger bands six days in a row and led to the RSI falling to the teens. This kind of extreme move should get your attention.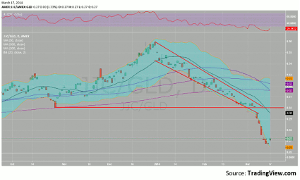 Click to Enlarge
It is the one that traders talk about when they say buy when there is blood in the streets. And Monday it started to halt that decline, moving back into the Bollinger bands. Here is your opportunity for a quick trade. Buying copper and selling gold short in a 4:1 ratio makes it nearly dollar neutral. The low of 0.2675 in the ratio can act as a stop loss and look for a target at a ratio of at lest 0.30, the horizontal red line that marks both the break of the wedge and prior support. With the ratio currently at 0.2725 that gives a 5.5:1 reward to risk ratio.
By Greg Harmon of Dragonfly Capital