6 Robotic Plays for a C3PO Future
04/04/2014 7:00 am EST
Focus: STOCKS
The price points for robots are shrinking fast, so could robotics stocks be a safe play in the near future, wonders James Dennin on Kapitall.com?
It probably wouldn't surprise you to know that building robots isn't cheap—even though there are a lot of them that we already use in everyday life. We use garage doors, automated security systems, and ATMs without really thinking about it.
There's a pretty simple explanation for this, and that's that robots are way more practical and cheaper to produce when they're only really designed to do one thing. We've mastered, more or less, how to automate simple processes.
The hard part is putting it all together into a one-stop-shop, catch-all robot who can replace a lightbulb, tutor your kid in math, and, well—whatever else the consumer can think of.
However, some analysts are now saying that real-live C3POs might be more within our reach than previously thought. A lot of the costs that made producing and testing robots so expensive in the first place are starting to shrink.
3D printing has made it far easier to prototype, and smartphones have consolidated the supply-line for sensors and other component parts immensely. By some estimates, the cost for the component parts in robots is down 99%.
This is making it easier for small operations to get off the ground, which is important. As previously stated, robots are much easier to produce and market when they are designed for a special niche in the market. The lower costs have also encouraged more investors and venture capital firms to be open to funding.
There are several ways to play robotics stocks. The most obvious is probably Google (GOOG) —which has been looking into robotic drivers for a while and has its hand in a number of other high-tech operations.
There are also several pure robotics plays on the market, from firms like iRobot (IRBT) —which makes consumer-oriented robots that clean your home—to medical devices companies that are working on robots that will be able to perform surgeries. We built a list of the six largest publicly traded companies working in the robotics space and listed them below.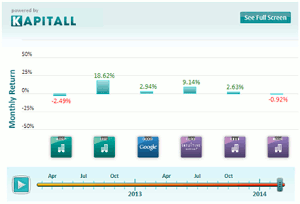 Click to Enlarge
1. Adept Technology Inc. (ADEP): Designs, manufactures, and sells industrial and mobile robots. Market cap at $218.63M, most recent closing price at $17.93.
2. iRobot Corporation (IRBT): Designs and builds robots for the consumer, government, and industrial markets. Market cap at $1.25B, most recent closing price at $40.94.
3. Google Inc. (GOOG): The world's most popular search engine. Market cap at $401.55B, most recent closing price at $1,120.15.
4. Intuitive Surgical, Inc. (ISRG): Designs, manufactures, and markets da Vinci surgical systems for various surgical procedures, including urologic, gynecologic, cardiothoracic, general, and head and neck surgeries. Market cap at $16.51B, most recent closing price at $434.99.
5. Hansen Medical, Inc. (HNSN): Develops, manufactures, and markets medical robotics designed for accurate positioning, manipulation, and stable control of catheters and catheter-based technologies. Market cap at $197.74M, most recent closing price at $2.44.
6. Mazor Robotics Ltd. (MZOR): Engages in the development, production, and marketing of medical devices for supporting surgical procedures. Market cap at $475.84M, most recent closing price at $21.30.
Monthly returns sourced from Zacks Investment Research, all other data sourced from Finviz.
By James Dennin of Kapitall.com