High-Flying Stocks with High Downside Risk
04/10/2014 7:00 am EST
Focus: STOCKS
Although Michael Fowlkes of MarketIntelligenceCenter loves most of these stocks with sky-high valuations, he thinks investors should consider dumping them.
We all love to see our stocks soar to incredible highs. As investors, when we pick winning stocks that pile on the gains, it gives us an amazing sensation of euphoria, but if we are not careful, that euphoria can wind up costing a lot of money.
I will not underestimate the importance of buying stocks at the proper time. There is an art to knowing when to get into a particular stock, but I believe the much harder decision to make is timing the exit. If you sell a winning stock too soon, you lose out on potential gains…hold on to it too long and you wind up giving back a lot of your prior profits.
The reason why selling becomes so difficult is that our human nature allows emotion to come into play. Losing positions spark the feeling of denial that leads us to believe the stock will come back. After all, they always do, don't they? The other side of the coin is the emotions that kick in on winning positions. It gives us a feeling that we can do no wrong, and inflates our belief that the stock is perfect. Unfortunately, this is a problem. All stocks have a limit as to their value, and if we let our emotions play too large a role in our decision-making process, we can sometimes forget this rule and hold on to positions longer than we would have otherwise.
A good way to remove emotion is simply to looking at a stock's valuation. When valuations get too high, it indicates that perhaps the market has become too bullish on the stock, and the end of its run is near.
This week we are going to screen for stocks with high valuation that we believe may be ready to head lower.
Chipotle Mexican Grill (CMG) Daily Chart

Click to Enlarge
One of the most successful restaurant stocks over recent years has been Mexican food chain Chipotle Mexican Grill (CMG). The stock has enjoyed a strong run as a shift in US appetites to healthier menu options has resulted in solid earnings growth for the company. However, with the run up in the stock over the last year, it is currently trading with a price-to-earnings ratio of 54, which is a bit high, especially considering the industry average is 29.5. A big reason why the stock is able to trade as such a high valuation is Wall Street expects ongoing earnings growth, but technically we are already seeing signs that the stock is cooling off. It hit an all-time higher in March, but is currently in a downward trend from that high and has fallen through recent support.
I compare the company to Panera Bread (PNRA), which is also benefitting from the shift in appetites, and PNRA has a P/E of just 26, which is closer to where I believe CMG should be trading. I like the company, I like the stock…but at the current valuation I think it would be wise to consider taking some profits off the table, and waiting for the stock to pull back before setting up any new positions.
Tiffany & Co. (TIF) Daily Chart

Click to Enlarge
Upscale jewelry retailer Tiffany & Co. is currently looking a bit expensive with a price-to-earnings ratio of 61.1. The stock has been strong over the last year, but has recently started to give back some of those recent gains, and I believe it may continue to move lower. Taking a quick look at the values Wall Street has put on other jewelry retails indicates that Tiffany has perhaps traded higher than it should have.
Zale Corp. (ZLC), for example, has a P/E ratio of 44.6, while Signet Jewelers (SIF) has a P/E of 23.2. I like Tiffany, and I believe that what really sets it apart from other jewelry retailers is its amazing brand name. Tiffany is synonymous with luxury and perfection, so that does create a situation where it is in a league of its own, but that does not remove the problem of its high valuation. The company recently reported fourth-quarter results there were lighter than expected for both earnings and revenues, and this could result in the stock giving back more of its recent gains. At the current valuation, I think it is time to lock in some profits and look for a more attractive play.
NEXT PAGE: 3 More High Flying Stocks
|pagebreak|
Under Armour (UA) Daily Chart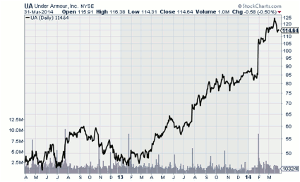 Click to Enlarge
Athletic footwear and apparel manufacturer Under Armour has shot sharply higher over the last 12 months, but now may be a good time for investors to consider locking up some of those gains. With the strong upward move the stock has made over the last year, its shares have hit a rather high valuation with its price-to-earnings ratio sitting at 76. When compared with industry titan Nike's (NKE) P/E ratio of 25, UA is looking mighty expensive at the current time. A big reason why the stock has traded so high is Wall Street expects the company to grow earnings by 25% in 2015, but even this is not enough to warrant such a high valuation in my opinion.
There is no questioning the fact that Under Armor is a great company, and it continues to grow nicely but compared to the rest of the industry, it simply appears to be overpriced, and investors would be wise to take at least some profits off the table before Wall Street brings the stock in line with the rest of the industry.
Waste Management (WM) Daily Chart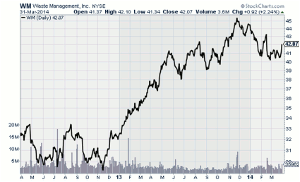 Click to Enlarge
Trash collection and recycling giant Waste Management is a stock that I love, but I simply cannot get behind its current valuation. At the current time, the stock is trading with a price-to-earnings ratio of 200, which seems incredibly high for such a mature and slow-growing company. Sometimes when a company is expecting rapid earnings growth, a high P/E can be overlooked, but Waste Management is only expected to grow earnings by 10% in 2015 versus 2014. As I mentioned, I like the stock. One thing that this world will never have a shortage of is trash, so the underlying business is solid and the company is not going anywhere, but the P/E is simply too high in my view.
Another leader in the waste-management industry is Republic Services Group (RSG), which trades at a sharply lower P/E ratio of just 21, which makes WM's current valuation look even more insanely high. The stock has already started to come off its recent highs, but long-term investors are most likely still looking at a nice profit on the stock, and it may be time to lock up some of those profits and find a less expensive stock moving forward.
Starbucks (SBUX) Daily Chart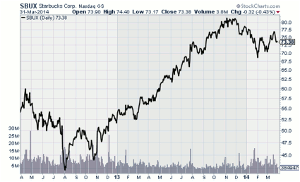 Click to Enlarge
Specialty coffee maker Starbucks, which is expected to grow earnings by 20% next year, is currently trading with a price-to-earnings ratio of 476. I understand why Wall Street is bullish on the stock, but the current valuation should scare away even the most aggressive investor.
The company is a clear leader in the coffee sector, but it does face a lot of stiff competition. Fast food giants such as McDonald's (MCD), which are struggling with sales growth due to shifting US appetites are putting a much greater emphasis on their breakfast menus and coffee lineups. And of course there is always Dunkin Donuts (DNKN), which wants to grab as big a slice of the morning breakfast crowd as possible. By comparison, Dunkin trades with a P/E of just 37.
I like Starbucks for multiple reasons, the primary being that it is clearly the top dog in the sector. It has the strongest brand name, and is associated with being the "upper class" coffee retailer. Starbucks is a great company, and it clearly has a strong future ahead of it, but it is operating in an increasingly competitive environment that could impact future growth. I would not consider buying into the stock with a P/E of 476. For investors already in the stock, I believe it would be smart to take some profits off the table and look for a more affordable stock moving forward.
By Michael Fowlkes of MarketIntelligenceCenter