What Intermarket Analysis Says About EM & SP
05/07/2014 7:00 am EST
Focus: STOCKS
Since the recovery from the financial crisis, money has continued to flow from emerging markets into large-cap US stocks, and technician Greg Harmon of Dragonfly Capital offers food for thought on what you should do about next.
The ratio of investment in S&P 500 to that in the emerging markets has many meanings and measures for investors and traders. A run lower, in favor of emerging markets, is often cited as a risk on measure. That can mean frothiness in the broad world markets at the top of a cycle or the sign of a global turnaround if it is not the top. I really do not need to have a narrative associated with price action to explain it, but understand the needs of others in that regard. To me the price action itself is enough. And what the price action in this pair is saying is interesting. Take a look.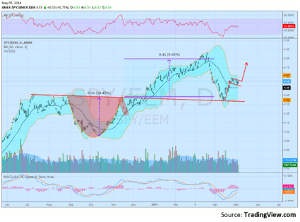 Click to Enlarge
The daily chart above shows the last year's price action. The ratio rose up to 4.40 and established that as resistance two months, retesting it three times, before pulling back. The pullback came right back to that resistance and had a shallower pullback, establishing a cup and handle pattern. At that point, it broke the resistance to the upside and reaching a bit past the pattern target. The pullback from that high then retested the extension of the breakout level and is moving higher again. Now in a bull flag with a measured move higher to a ratio of about 4.80 on a break higher.
The momentum indicators are also positive, with the RSI at the mid line after rising, and the MAD moving higher. Translation: The movement of money from emerging markets into the S&P 500 looks to continue after the recent pullback. That was a lot of complex technical analysis. But you can get the same perspective with a lot less of the noise by looking at the monthly chart of the ratio below.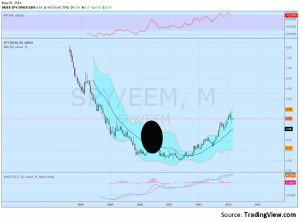 Click to Enlarge
Plain and simple, with the time around the financial crisis blacked out, there has been nothing but a smooth flowing transition from emerging markets in to the S&P 500 that is continuing. How far will it go? Nobody knows, but don't try to tell me that it is overbought so it is not worth pursuing. It remained oversold for more than five years. Are you going to continue to just sit and watch this happen?
By Greg Harmon of Dragonfly Capital