5 Stocks Hedge Funds Are Buying or Selling
05/23/2014 7:00 am EST
Focus: STOCKS
Hedge fund buy and sell orders can be a clue for private investors, says Chris Lau on Kapitall.com.
Trading activities from hedge funds are a source of insight for investors. At times, companies held by many of these funds could be future movers. It is important that investors be cautious with hedge fund trading data. The information is only up until the end of the quarter (the 13F filings are as at March 31 2014). Option positions and holdings in non-publicly traded companies do not need to be reported by funds, either. This means the disclosed long and short positions only reveal part of the trading strategy.
Netflix Shares Sold
Carl Icahn made a notable sale in his Netflix (NFLX) position in the first quarter. Icahn sold 421,000 shares, which lowers his position to 3.7% of holdings. The move is consistent with a previous sale of the video streaming service's stock made in October 2013.
Fundamentals for Netflix continue to be strong. The firm has subscriber growth so healthy it may be able to raise subscription fees for new members without fear of a backlash.
Holding Gold
In the metals market, John Paulson held his position in SPDR Gold Trust ETF (GLD), which is down 7.2% in 2014. He lowered his position in Freeport McMoRan (FCX) by around 33%. Freeport shares are down 5.6% this year. The company is broadening its business outside of the copper market to position itself as an oil and gas exploration play. Chances are good that the firm will grow successfully in the energy market.
Many Sell GM
General Motors (GM) found many hedge fund managers selling its stock. Einhorn's Greenlight Capital (GLRE) sold its entire stake in the auto maker. Berkshire Hathaway (BRK.A, BRK.B) also sold 25% of its position (10 million shares) in GM. GM is in hot water because of safety issues in vehicles sold nearly a decade ago.
Third Point, run by Dan Loeb, and Greenlight Capital both held Nokia (NOK) shares in Q1. Nokia recently closed the sale of its devices unit to Microsoft (MSFT). As a more focused company, the firm offers a healthy dividend, and promises to find growth in the networking and geo-mapping market.
Do you think stocks picked by iconic investors have potential for your portfolio? Use the list below to begin your own research.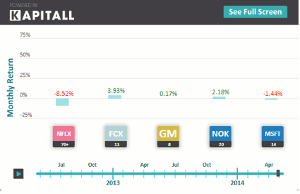 Click to Enlarge
1. Netflix, Inc. (NFLX): Provides subscription based Internet services for TV shows and movies in the United States and internationally. Market cap at $21.91B, most recent closing price at $390.60.
2. Freeport-McMoRan Copper & Gold Inc. (FCX): Engages in the exploration, mining, and production of mineral resources. Market cap at $35.86B, most recent closing price at $34.26.
3. General Motors Company (GM): Operates as a global automaker. Market cap at $54.51B, most recent closing price at $33.46.
4. Nokia Corporation (NOK): Provides Internet and digital mapping and navigation services worldwide. Market cap at $27.03B, most recent closing price at $7.62.
5. Microsoft Corporation (MSFT): Develops, licenses, and supports a range of software products and services for various computing devices worldwide. Market cap at $327.36B, most recent closing price at $40.35.
By Chris Lau of Kapitall.com