Will M&A Feeding Frenzy Devour These Stocks?
06/03/2014 7:00 am EST
Focus: STOCKS
Volatility and low market valuations may make these companies takeover targets in what is turning out to be a record year for M&A activity, notes the staff at Kapitall.com.
Already 2014 has been a big year for mergers and acquisitions (M&A). In the first half of the year, BusinessWeek reports there has been $1 trillion dollars worth of deal across the globe. Even accounting for the setback of the multi-billion dollar Pfizer-Astrazeneca deal, M&A for 2014 is on track to set a record.
The reasons for this unprecedented level of activity may be many: record profits and low interest rates have built up cash reserves in the biggest companies; the underperformance of small- to mid-cap companies relative to large-cap companies may have created an environment ripe for deal making; or hyperactive M&A may the sign of a developing asset bubble. Whatever the reason, investing in likely takeover targets could return outsized rewards for investors with risk appetite.
BioScrip (BIOS), a pharmaceutical solutions company, recently reported a loss of 13 cents a share, larger than analysts' estimate of 2 cents a share, but revenues increased 20.3% year-over-year. Analysts remain bullish on this stock, even though it has lost 80% of its value since its one-year high of $17.31 in July of 2013. Bioscrip's low stock price combined with its poor balance sheet may, paradoxically, make it attractive as a takeover candidate.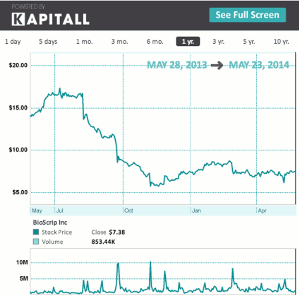 Click to Enlarge
Molycorp (MCP) has been declared dead and hopeless. The rare earth minerals miner suffered from a glut and drop in demand after 2011, and it has been bleeding cash ever since. Currently the stock trades just north of $2, atmospheres below its April 2011 high of $73.30. Though its revenue prospects are not encouraging, its net assets outweigh its liabilities by nearly two-to-one, and its book value per share represents a 62% premium.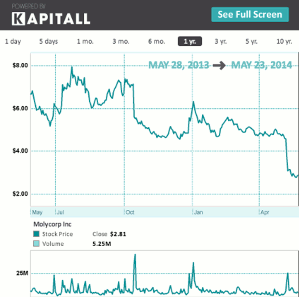 Click to Enlarge
Aeropostale (ARO) has long been rumored to be a target for takeover. As Arthur Pinkasovitch wrote two years ago, well-recognized brands in attractive takeover industries with low sales multiples are often attractive to both private equity and other businesses in the industry. On May 22, Aeropostale released earnings, and the result was a whopping 25% share price haircut. The brand looks like it's doomed: same-store sales plunged by 13%, mall traffic is down 18%, and the stock crashed through its ten-year low. Commentators across the internet are grumbling that Thomas Johnson has been at the helm too long.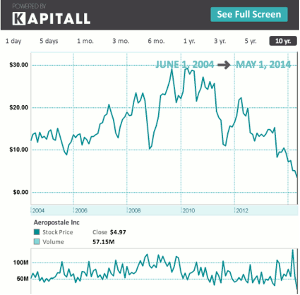 Click to Enlarge
Using the inverted logic that poorly performing companies may be bigger takeover targets in periods of M&A frenzy, these stocks that would otherwise be dogs may be a cheap entry into M&A plays. In addition to the paradox that the most poorly performing companies are precisely the ones that might be taken over, all three of these companies have seen insider buying and an increase in the short float of their shares since the beginning of the year. Both signal speculators are placing bets, and the payoff—or loss—may be substantial.
By the Staff of Kapitall.com