Game Over for 3 Gamers?
06/13/2014 7:00 am EST
Focus: STOCKS
For a while, stocks of game-makers such as these three were flying high, but in recent times, they have all come down to earth with a thud, and Chris Lau of Kapitall.com explores whether they can recover their previous mojo.
The sudden drop in shares of Zynga (ZNGA) on surging volume all but solidifies more downside for shareholders, but there could be hope.
Why Zynga Fell
Zynga presented at a Global Technology conference hosted by Bank of America Merrill Lynch (BAC). Its CEO, Don Mattrick, admitted the company could face weakness ahead. This is due to summer seasonality and higher costs associated with new products. Investors were not pleased. Since March, bearishness grew: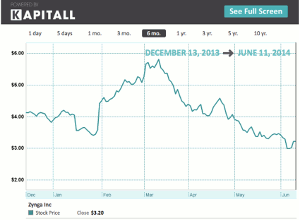 Click to Enlarge
Zynga is now at lows not seen since August, 2013, when shares traded below $3. Glu Mobile (GLUU), another mobile game stock, is not faring any better. Glu is up nearly 50% in the last year, but sold off steadily since March: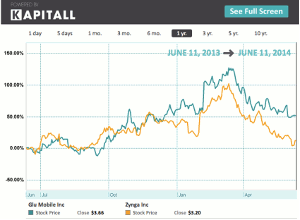 Click to Enlarge
Glu recently issued shares for $3.50 and intends to use the proceeds to acquire companies and to improve its existing products.
Zynga's product path is different: the firm weaned itself away from Facebook (FB), and is focusing on growing FarmVille on mobile devices. It cut costs by lowering its headcount. To its benefit, daily and monthly activity is stabilizing. The company has around $0.88 per share in cash, compared to its stock price of $3. More importantly, Zynga is in a good position to use its excess cash to acquire companies. This would bolster its product offering and diversify its game portfolio from near total reliance on FarmVille.
Alternatives
King Digital Entertainment (KING) is a newcomer on the stock market. Its hit game, Candy Crush, still pulls in revenue for the company. King's market capitalization is roughly double that of Zynga, but its earnings are solid. King's success in the mobile market is holding steady.
Conclusion
The pullback in Zynga might be temporary. Investors confident that Zynga will improve revenue from its current lineup of products will be rewarded. Conversely, King Digital is an established player in the mobile market. King is susceptible to a sell-off. If that happens, it offers value for investors who want exposure to the growing mobile market.
By Chris Lau of Kapitall.com