It's Time to Refine in This Pullback
08/01/2014 7:00 am EST
Focus: STOCKS
After an earnings report comes out, Greg Harmon of Dragonfly Capital will reexamine a stock he previously set on the sidelines to see if a possible trade opened up. And in this case…two did.
The charts of the refining stock had a good look to them during this weekend's review. Problem was that they reported earnings this week. I don't avoid stocks that report earnings outright, but I am reluctant to take a position ahead of a report based on the chart alone. So, with so many others to choose from, I generally put it on the sidelines, like a timeout for my kids. Once earnings are out then I re-look at them to see if there is still potential for a trade. Well two of them, Valero (VLO) and Tesoro (TSO) reported Wednesday and Thursday and they do still look good. Take a look.

Click to Enlarge
Valero popped higher after earnings and has moved through two minor resistance levels. With only a third overhead at 52.20 before it can challenge the gap higher to 56, it looks good for more. The RSI is over the mid-line and running hard higher with the MACD continuing up as well. A trader could get long the stock higher or over that last resistance and use the 20-day SMA at about 49.40 as a stop for a defined risk trade.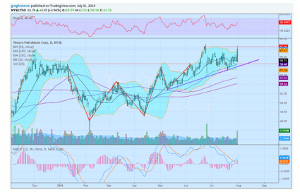 Click to Enlarge
Tesoro traced out a 'W-V' pattern as it consolidated over the first half of 2014. It broke above this at 58.50 in June and has been consolidating over that breakout level, with a minor pullback to support, earlier this month. Thursday's price action in a weak tape is most interesting. The price is testing the top of the breakout move at 62.30 with the RSI rising and in the bullish range, the MACD crossed up, and the Bollinger bands opening higher. These all support further upside. It may not have broken on Thursday, but it is showing real strength.
By Greg Harmon of Dragonfly Capital