Social Media Stocks Are Bucking Yellen and Market Weakness
08/11/2014 7:00 am EST
Focus: STOCKS
Michael Gayed of Minyanville.com takes a look at several social media stocks that seem to be ignoring the familiar "stretched sector" warnings of Fed chair Janet Yellen, at least, for now.
"Short cuts make long delays."—J. R. R. Tolkien
A few weeks ago, Fed Chair Janet Yellen made the largely unprecedented move in stating that there are select parts of the stock market, particularly in Biotech (IBB), (XBI), (FBT) and social media (SOCL), (FDN), which are "stretched." Her comments brought back memories of Greenspan's irrational exuberance speech just before stocks went vertical in the late 1990s, culminating in the tech bubble and eventual burst. The Fed is clearly aware that ultra-easy monetary policy can create excessive risk taking. They can't necessarily stop market participants from exhibiting bubble-like behavior, but they can at least point out the potential for such behavior to exist.
I don't think Yellen is naive to this. By pointing out select excessive movement in certain sectors of the stock market, perhaps all she can hope for is that the Fed does not get blamed for a potential bubble in the making. History shows that stock market bubbles aren't anywhere near as devastating as debt ones, but still need to be addressed at least verbally to make market participants aware that risks exist in high flying names.
Much in the same way markets ignored Greenspan's initial warning, so too are social media stocks ignoring Yellen.
Take a look below at the price ratio of the Global X Social Media Index Fund ETF SOCL relative to the S&P 500 SPDRs ETF (SPY), overlayed with its four-week moving average. As a reminder, a rising price ratio means the numerator/SOCL is outperforming (up more/down less) the denominator/SPY. Note that strength has been returning after a colossal period of weakness from March to May.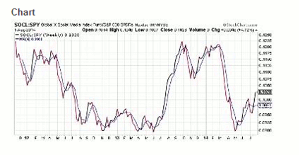 Click to Enlarge
This is particularly interesting timing in the face of higher volatility happening for overall market averages. Social media stocks are once again attracting attention and seem to actually be a place where money is being parked, despite ongoing fears over a potential correction in the making for US equities.
Our equity sector Beta Rotation Fund has been rotating around high- and low-beta sectors in the last several weeks given some of the more mixed inter-market signals we track while maintaining equity exposure. One would think in a true correction, social media stocks would take it on the chin. The above chart says quite the opposite, and indicates there might yet be some residual risk taking, independent of the fear of a breakdown in markets.

By Michael Gayed, Contributor, Minyanville.com