Decision Time for Netflix at Key Price Level
09/24/2014 7:00 am EST
Focus: STRATEGIES
Technician Corey Rosenbloom of AfraidToTrade.com takes to the charts to plot the key support level that's proving to be an important turning point for this multimedia giant and he shares the trading strategy designed around it.
Netflix (NFLX) shares face an important turning point at a key support (pivot) level.
Let's plot this level—see why it's important—and design a trading strategy around it.
Focus on the rising 20-week EMA (price so far reversed up off this level):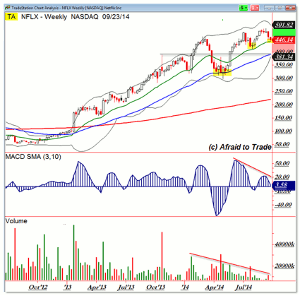 Click to Enlarge
The rising 20-week EMA rests at the $440 per share level and was (so far) this week's reversal low.
Notice the yellow highlights on the chart where price touched, then reversed, off rising moving averages.
We'll simply be expecting another bounce-up off this level.
We can't assume this will happen, and thus we must plan a bearish breakdown contingency pathway, which will trigger should shares fall sharply under the current $440 key pivot level.
If shares move firmly under $440, the weekly chart suggests a downside target play toward the $400 per share confluence.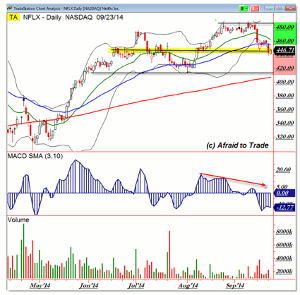 Click to Enlarge
The Daily Chart shows a breakdown under the 20- and 50-day EMA, which is bearish, but do note the Midpoint, or middle point, of the sideways trading range.
The Midpoint or price pivot is the $445 per share level – again the level from which price may develop a bounce/rally up from here
Otherwise, the Daily Chart suggests a bearish pathway (breakdown) that may also trigger under $440. This time, the target is the $415 price and 200-day SMA confluence (not quite as bearish as the weekly target near $400).
Finally, we see a "Final Fibonacci" Level on the intra-day chart: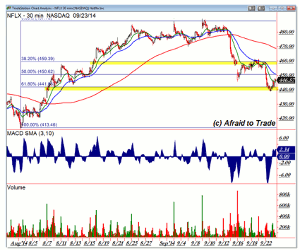 Click to Enlarge
Focus your attention on the 61.8% Fibonacci Retracement (highlighted) as drawn.
This simply overlaps the rising 20-week EMA and Midpoint on the Daily Chart. The 61.8% level officially intersects $442.00 per share.
Remember, in trading, we're not looking for precise to the penny pivots but rather overlapping indications at a very similar level—a confluence.
For now, that confluence exists—and thus a pivot point (bull above; bear beneath)—has developed at the $440 to $445 level in Netflix (NFLX) and should be respected as price moves away from this key level.
By Corey Rosenbloom, CMT, Trader and Blogger, AfraidToTrade.com