NQ E-Mini Leading the Way Once Again
10/27/2014 7:00 am EST
Focus: FUTURES
Trader Anna Coulling, of AnnaCoulling.com, looks at this daily chart to determine if—following the unmistakable buying signals of last week—we can likely expect further gains for equities this week.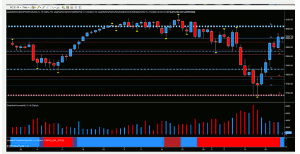 NQ e-mini Daily
Click to Enlarge
The recovery in equity markets has been nothing short of dramatic, with the NQ E-mini leading the way once again, with the price action of last week creating a classical V reversal on the daily chart following the unmistakable buying signals of last week, since then the daily volumes have returned to normal levels once more. Over the last few days, each wide spread candle has built on the last with the daily volumes validating the price action and even more so on Wednesday, as the minor pullback reflected a lack of selling pressure, with Thursday's rally  driven by solid volume and positive results from major companies with Caterpillar (CAT) leading the way. The Ebola scare coupled with the tragic events in Canada have unsettled the market, but, as on previous occasions, the reaction lower appears to be short-lived with the electronic market regaining the 4000 level once more ahead of the physical open, as the index tests minor resistance in this region. The only significant news item Friday was New Home Sales, forecast at 473,000—a decline on last month's 504,000—and with the last few months of releases having flip-flopped between 400,000 and 500,000 over the last few months, any shortfall in this number is unlikely to have a major impact.
Last Thursday's price action was also significant as it breached the resistance in the 3950 to 3985 region and provided solid and rising volumes on Friday, and, into this week, we can expect to see further gains for equities in due course and—for the NQ E-mini—a return to test resistance in the 4060 region as denoted with the blue dotted line. If this level is reclaimed, then a deep and sustained platform will then be in place as the springboard for a breakout in a further move higher in the medium-term.
By Anna Coulling, Professional Trader & Blogger, AnnaCoulling.com