Facebook Soars As It Takes Over News
10/28/2014 7:00 am EST
Focus: STOCKS
Since many analysts feel this social media giant will beat all estimates and head into this quarter on a positive note on Tuesday, Ben Myers, of YesOption.com, charts the stock's year-to-date performance and offers some actionable insight for traders and investors to consider.
Facebook Inc. (FB) has been one of the top performing social media stocks, with the stock gaining close to 49% this year alone. Facebook is expected to release its quarterly results on Tuesday and analysts feel the social media giant will beat all estimates and head into this quarter on a positive note.
Many experts believe that Facebook is trying incredibly hard to become the Number One choice for consumers to access their news. As the company currently has 1.3 billion active users who login to the Web site on a daily basis, Facebook is investing an extraordinary amount of time and effort into creating news feeds that will allow consumers to not only consume personal information but additionally enable them to update themselves about the happenings around them. Furthermore, the foray into mobile payment through its messenger app is seen as a huge game changer for the company.
When looking at the daily chart for Facebook, the stock has hit a fresh 52-week high, which analysts feel is tremendously beneficial for the company going forward. Additionally, it is currently in a strong upwards trend and will probably continue to do so, assuming the company announces encouraging results. The stock meanwhile formed a strong support zone near the $70 level and currently trades well above its daily moving average. The momentum indicator for Facebook is presently giving a fresh buy signal and is showing no signs of any reversal, which is a bullish indication. Lastly, the relative strength index is additionally situated in bullish territory, indicative of the strong buying interest seen at current levels.
Actionable Insight:
Long Facebook Inc. (FB) at current levels for an intermediate target at $83.70, with a stop loss below $78.50
Short Facebook Inc. (FB) only if it closes below $76.38, for a short-term target at $70.48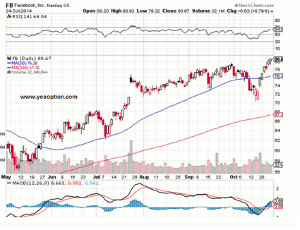 Click to Enlarge
By Ben Myers of YesOption.com