Inside This Year's M&A Boom and the IQ Merger Arbitrage ETF (MNA)
11/28/2014 7:00 am EST
Focus: ETFS
Daniela Pylypczak-Wasylyszyn of ETFdb.com discusses this year's global M&A boom and the merger arbitrage ETF that aims to profit from the spread that occurs when an acquisition is announced and the final purchase price is set.
This is a duplicate of an ETFdb.com original article which is located here...
Since the start of 2014, Wall Street has witnessed one of the most active mergers and acquisition booms in some time. With only a little more than a month to go, so far this year's global merger tally already tops $3 trillion, with US M&A activity accounting for $1.5 trillion. According to Dealogic, the current dollar volume of announced deals in the world is higher than in any full year since 2007.
In light of this M&A boom, we'll take a look at the recent mega-deals, as well as highlight how one particular fund has tried to capitalize on this boom.
The Highest M&A Activity Since 2007
Global M&A volume totals $3.23 trillion year-to-date, which is 27% higher than 2013′s volume and the highest YTD volume since 2007, which logged in a volume of $4.08 trillion. Below is a graph of yearly M&A volumes from Dealogic.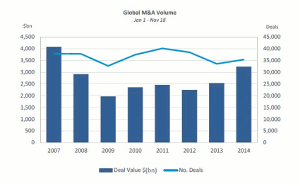 Click to Enlarge
While the majority of the deal volume has targeted the healthcare sector, there have also been some other mega-deals in other industries. Some of the largest deals of 2014 include:
It should be noted that not all of these deals have been approved by regulatory authorities yet.
A Look at the IQ Merger Arbitrage ETF
At its core, merger arbitrage ETFs aim to profit from the spread that occurs when an acquisition is announced and the final purchase price is set. The IndexIQ Merger Arbitrage ETF (MNA) is one of only a handful of ETFs that utilizes this popular strategy.
MNA tracks the IQ Merger Arbitrage Index, which seeks to achieve capital appreciation by investing in global companies for which there has been a public announcement of a takeover by an acquirer. This differentiated approach is based on a passive strategy of owning certain announced takeover targets with the goal of generating returns that are representative of global merger arbitrage activity. The index also includes short exposure to global equities as a partial equity market hedge.
Below, take a look at MNA's performance year-to-date, relative to the S&P 500 ETF (SPY):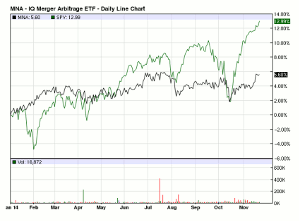 Click to Enlarge
During the first few months of the year, where equities entered a steep correction, MNA managed to outperform the broader market. Once bullish momentum returned, SPY charged higher, while MNA continued its steady upward trend. MNA has also managed to outperform its competitors in the merger arbitrage ETF category.
The Bottom Line
M&A activity has certainly picked up its pace this year, which, for the most part, is a positive sign for the economy. The IndexIQ Merger Arbitrage ETF MNA has also benefited from this uptick in mega-deals, logging in steady returns throughout the year.

By Daniela Pylypczak-Wasylyszyn of ETFdb.com