Trade Setups to Watch in This Falling Market
01/06/2015 7:00 am EST
Focus: STOCKS
The massive selling over the last four trading days has Ryan Mallory, of SharePlanner.com, admitting his first list of bullish trade setups for 2015 doesn't match previous lists, though he still cautions traders to be careful of saying that the bears now have control of the market.
The bullish list of bullish trade setups doesn't sport the number of setups it usually does.
That's because four straight days of selling in this market, it has pretty much wiped out 75% of the trade setups that were out there.
You have to be careful about coming out and saying the bears now have control of this market because we have seen time and time again where—just when the bulls looking like they are going to tap-out—a monster rally ensues. You don't have to look any further than the price action from the October lows and the December lows.
If this market means to go much further in the days ahead, then wait for the dead cat bounce, and once the market decides to resume its downtrend, then you get short there and stay away from the longs.
Here's the bullish list of trade setups: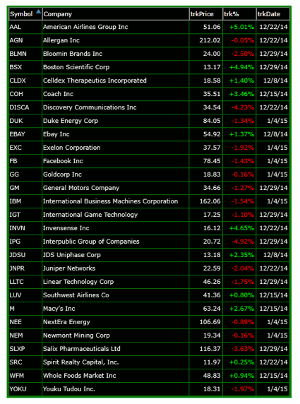 Click to Enlarge
By Ryan Mallory, Founder, SharePlanner.com