Plenty of Uncertainty...
04/08/2015 7:00 am EST
Focus: MARKETS

Based on the respectable rally he witnessed on Monday, Ryan Mallory, of SharePlanner.com, offers his technical outlook for the S&P 500 on Tuesday, cautions that there's plenty of uncertainty remaining in the market short-term, and highlights the one trade he did execute on Monday.
Technical Outlook:
A respectable rally Monday that saw price break above the 5-, 10-, 20-, and 50-day moving averages that have all converged together at one specific price point.
The key for the bulls Tuesday will be to push the price above last week's highs. If it does that, there is a much more legitimate chance that this market is carving out a possible new uptrend.
Still, for the bears, the objective remains to get SPX below 2040 to confirm the double top on the charts.
The convergence of the 5-, 10-, 20-, and 50-day moving averages is a perfect example of how non-directional this market has been over the course of this year.
VIX only rallied a 1.5% to 14.74.
Big day out of T2108 (% of stocks trading above the 40-day moving average) as it moved 13% to 60%.
The trading range continues to get even more narrow, with last week establishing a new lower-high and a higher-low.
You still have the lingering potential double top on the 30-minute chart of SPX but overall the price action there is very uncertain and choppy.
Plenty of uncertainty remains in the market short-term. Euro and oil are major players in the market's direction currently.
Oil remains extremely volatile and becoming more so each and every day. Very difficult to trade as are the oil stocks.
The market doesn't care about the economy nor earnings. That is not what is driving it. The market only cares about what the Fed is doing to keep equities propped up.
My Trades:
Added one new position on Monday.
Closed out GCI Monday at 36.29 for a 1.2% loss.
20% long / 80% cash.
I'll consider adding 1-2 new long positions Tuesday dependent on the strength of Tuesday's price action.
Remain long: UPRO at 132.12.
Chart for SPX: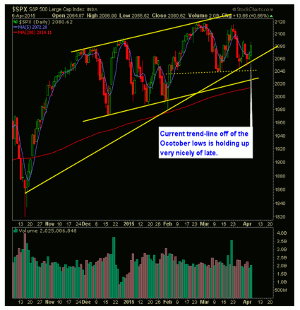 Click to Enlarge
By Ryan Mallory, Founder, SharePlanner.com