5 Stocks with Bullish Technical Patterns
04/09/2015 7:00 am EST
Focus: STOCKS
From a technical perspective, Michael Fowlkes, of Market Intelligence Center, highlights five stocks with bullish patterns that now look poised to breakout of the sideways trends they have been struggling through.
[These stock choices and analysis are from an outside author and are not buy/sell recommendations for these stocks. We may trade or hold any of these names in either direction. The article does do a nice job of showing five classic chart patterns on stripped-down current charts.]
As the market continues its struggle to breakout of the sideways pattern it has been stuck in over the last four months, a lot of investors are now dealing with the unenviable task of finding attractive stocks to invest in. When markets seem unclear—and the market's future is uncertain—I tend to fall back on technical analysis. Plenty of investors avoid technical analysis, and rely more on the market and stock fundamentals, but I lean the other direction and prefer to gauge a stock's potential from a technical point of view.
The reason I prefer the technical approach is that, theoretically, a stock's current price always reflects all of the known news on the company. Fundamental analysis operates on delayed information, whereas technical trends are changing in real time. Often times, technical analysis can foreshadow future stock movement simply because so many investors believe in it. If a large number of investors all see a stock flashing the same buy signals, the signals become a sort of self-fulfilling prophecy, since the signal itself will lead to increased buying of the underlying security. As a result, it is important to understand that if you do trade based on technical analysis, you have to constantly stay on top of your holdings and keep a vigilant watch for sell signals that will eventually start to appear.
This week, we are going to focus on stocks that are currently showing bullish setups:
Cardinal Health
Cardinal Health (CAH) has been trending higher for the last year, and despite the fact that the stock is trading just shy of its all time high, the technical trend still looks good. As you can see in the chart below, CAH has been maintaining a solid upward trend within its support/resistance range. Each time over the last nine months that the stock has fallen to test its support level, buyers have rushed in and pushed shares higher. Analysts forecast 13% earnings growth next year, which should keep momentum under the stock. Taking a second to look at CAH from a fundamental point of view, a quick look at the stock's valuation is also attractive. The stock has a P/E of 27.9, below the industry average of 30.6.4.
CAH Daily Chart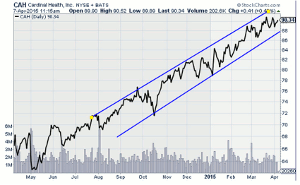 Click to Enlarge
Facebook Inc.
Social media leader Facebook Inc. (FB) recently flashed a major buy signal when it broke out of its recent sideways trend. As evident in the chart below, the stock was stuck in a sideways pattern between $74 and $82 starting in November, but, in late March, it broke through the upper range of its resistance. After doing so, the stock moved a bit higher before running into some selling pressure. The important thing to note is that once the stock fell back to its previous resistance level, it bounced off that level, which has now formed a new level of support. The stock has a high valuation, but also forecast earnings growth of 13% next year, which will help shares continue to use the new support level moving forward. This creates a great buying opportunity while shares are still so close to the new support.
FB Daily Chart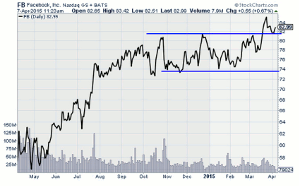 Click to Enlarge
NEXT PAGE: The Technical Approach to Three More Stocks |pagebreak| TOTAL S.A.
French oil and gas company TOTAL S.A. (TOT) has experienced a great deal of selling pressure in reaction to falling oil prices, but technically the stock is showing buy signs. The technical signal that the stock is currently displaying is called a double bottom. As seen in the chart below, TOT fell to a 52-week low of $46.61 in early January before charging higher through the first month of the year. The weakness returned to the stock, which fell a bit lower than its previous low in March, before once again regaining its footing and moving higher. This is known as a double bottom and is a very bullish technical indicator. Oil has yet to really make any significant recovery, but the chart on TOT illustrates that traders believe there is enough value at the stock's current price to keep shares from moving lower.
TOT Daily Chart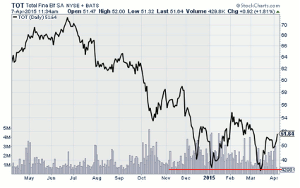 Click to Enlarge
Amazon.com
Following a stronger than expected fourth-quarter report at the end of January, shares of Amazon.com (AMZN) shot sharply higher. As to be expected, after such a strong jump, sellers came in and took profits, driving the stock lower. What we have seen since that is a double bottom, a clear sign that traders believe the stock's natural range at the current time is above $370 a share. Right now, the stock is testing its previous peak, and should it trade through and hit $380, then shares are poised to climb to a new all time high and will likely climb above the $400 mark for the first time in the stock's history.
AMZN Daily Chart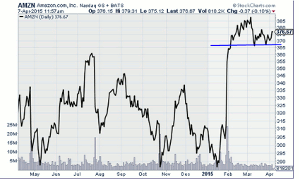 Click to Enlarge
Stanley Works
After a multi-month charge higher, Stanley Works (SWK) failed to stay inside its upward support/resistance trend in March. The stock lost momentum and entered into a sideways trend, but it now appears ready to breakout of that trend. As you can see in the chart below, SWK has broken through the recent resistance level it established, which indicates that the stock will once again regain its upward momentum. The stock has a valuation in-line with the sector and analysts forecast 14% earnings growth next year. All things considered, there is no reason to believe the stock will not begin to use the recent resistance level as a new level of support as the stock moves higher.
SWK Daily Chart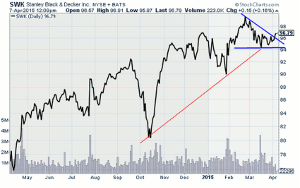 Click to Enlarge
By Michael Fowlkes of Market Intelligence Center