Stocks Continue to Rebound Led by Nasdaq
04/14/2015 7:00 am EST
Focus: STOCKS
In this article, David Becker, at FXEmpire.com, charts the price movement of the US equities since they extended their rebound—led by the Nasdaq—on Monday. David also illustrates how he generally tends to focus on the small-caps because they usually lead in a rising market.
On Monday, US equities extended their rebound led by NASDAQ, which popped 0.5% into the green and reversed overnight losses. As reported earlier, the investor activism on Qualcomm has had some traction, as has the surge in pre-orders for Apple's watch. Netflix also rallied 4.6% on talk of a stock split. Within the Dow, biggest gainers are UnitedHealth +1.3%, Apple, +0.75% and JP Morgan +0.7%, ahead of a slew of bank earnings later in the week.
Whenever we look at the US stock market, we often focus on stronger groups like smaller stocks, which usually lead in a rising market. Their relative strength is a positive sign for the US market. It's also useful, however, to see how some of the weaker groups are doing. Their ability to stay above chart support is another positive sign. The S&P 600 Small Cap Index in a solid uptrend during 2015 and very close to a new high. Its 2015 gain of 4% is twice as big as the S&P 500 Large Cap Index (GSPC), which gained 2%. Small-cap leadership is usually a good sign. The S&P 500 moving to the upper end of a triangular formation defined by converging trend lines. That's usually a bullish pattern. The GSPC has also climbed back above its 50-day average.
The Dow Jones Transportation Average (DJT) climbing back above its 200-day average and its January lows. That also helped keep the Dow Jones Composite Average (DJA) in a sideways trading range. The DJA is now bouncing off of its January low and its 200-day average. The Dow Utilities (DJU) are also finding support at their 200-day line. This week's bounce keeps the DJA in a sideways consolidation pattern within its major uptrend.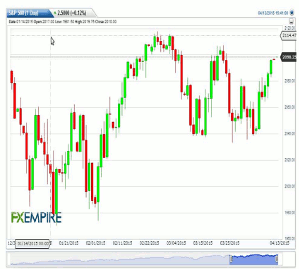 Stocks Continue to Rebound Led by Nasdaq
Click to Enlarge
By David Becker, Contributor, FXEmpire.com