Nuance: Value Play or Trap?
04/27/2015 7:00 am EST
Focus: STOCKS
Chris Lau, of Kapitall.com, outlines how the stock of this speech recognition software firm—once a rising star in the smart phone world—has fallen steadily since shareholders realized low profitability. But now at low valuations, is it a play or a trap?
The company behind Siri has struggled with low profitability. At low valuations, is it a compelling play or a trap?
Nuance Communications (NUAN) was once the rising star in the smart phone world. The speech recognition software firm supplied the engine that powered Apple's (AAPL) Siri. But when shareholders realized the low profitability from its dealings from Apple, the stock responded. Nuance fell steadily from the $20 to $28 level and last closed at $14.26. Do shareholders have any hope?

Click to Enlarge
Decent quarterly results
On February 5, Nuance announced first quarter earnings of $0.25 per share on revenue of $489 million. Both figures beat consensus estimates. Unfortunately, the firm did not demonstrate any meaningful growth nor did it supply a solid outlook. In its prepared remarks, Nuance provided the following guidance:
Second-quarter revenue of $459 million to $475 million
Earnings of $0.22 to $0.26 per share
Both figures are below consensus, although not by much. Analysts had expected revenue of around $499.5 million on $0.27 per share.
For the fiscal year ending September 2015, Nuance thinks it will earn up to $1.18 per share.
New product
On April 13, Nuance announced PowerMic Mobile, making the firm a smartwatch app and healthcare software play.
Analysis
Nuance traded at $13.87 recently, which implies a forward P/E of just 11.75. This is inexpensive. The operational challenges Nuance facing are not insurmountable. If management progresses in improving performance, the stock could rebound.
At the current valuation, Nuance may attract a buyer, too. That the stock is down around 14% in the past year will not go unnoticed by a potential suitor. A company as big as Apple might show interest: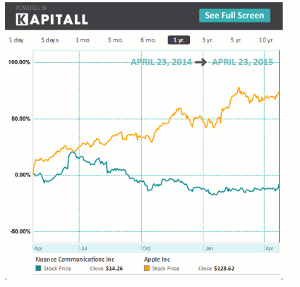 Click to Enlarge
It's also possible that a private equity firm will look at shaking up Nuance to boost the firm's intrinsic value. Given that other firms in the mobile space like Microsoft (MSFT), OmniVision (OVTI), and Synaptics (SYNA) trade at much higher multiples, Nuance may eventually trade up to its potential, too.
It is not clear if Nuance is a value play or a trap. Until the firm executes more effectively, the stock is unlikely to move up.
Click on the interactive chart to view data over time.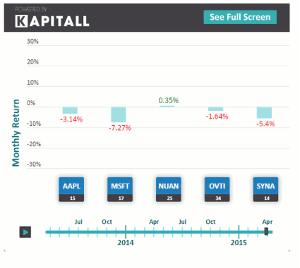 Click to Enlarge
1. Apple Inc. (AAPL): Designs, manufactures, and markets personal computers, mobile communication and media devices, and portable digital music players, as well as sells related software, services, peripherals, networking solutions, and third-party digital content and applications worldwide. Market cap at $749.18B, most recent closing price at $128.62.
2. Microsoft Corporation (MSFT): Develops, licenses, and supports a range of software products and services for various computing devices worldwide. Market cap at $352.64B, most recent closing price at $42.99.
3. Nuance Communications Inc. (NUAN): Provides voice and language solutions for businesses and consumers worldwide. Market cap at $4.64B, most recent closing price at $14.26.
4. OmniVision Technologies Inc. (OVTI): Designs, develops, and markets semiconductor image-sensor devices. Market cap at $1.56B, most recent closing price at $26.82.
5. Synaptics Inc. (SYNA): Develops and supplies custom-designed human interface solutions that enable people to interact with various mobile computing, communications, entertainment, and other electronic devices. Market cap at $3.29B, most recent closing price at $89.54.
By Chris Lau of Kapitall.com