Have We Stopped Believing in 3D Printing?
05/08/2015 7:00 am EST
Focus: STOCKS
Chris Lau, of Kapitall.com, outlines the rocky road that 3D printing has been on for the past few months with sentiment turning away from excitement and jubilance towards loss of investor interest and industry momentum, but how, with this company set to enter the market, things could start to get interesting once again.
There was a time when everyone was really excited about 3D printing. Today is a different story.
Nothing is going right for 3D printing stocks these days. After dropping throughout 2014, the downtrend continued this year as investor interest dried up and the industry lost momentum. But now that Hewlett-Packard (HPQ) is set to enter the market, things might start to get interesting again.
3D printing bearishness accelerated after 3D Systems (DDD) announced its preliminary first quarter results on April 24. The firm blamed weak demand on economic weakness stemming from lower oil prices and bad weather. Yet, 3D Systems' first quarter revenue improved by 9% year-over-year to $160.7 million according to its official earnings, which were released on May 6. The company didn't issue a forecast.
Stratasys (SSYS) also issued a warning in its April 28 preliminary first quarter earnings. The firm lowered revenue and earnings estimates substantially. The consensus earnings estimate was $0.29 per share. Stratasys now expects earnings to come in as low as $0.02 per share.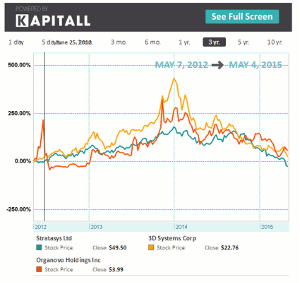 Click to Enlarge
3D printing stocks are in deep trouble. Consolidation, write-downs, and cost cutting likely mean there's no upside for these stocks, worse still, is that share prices will probably keep falling. The solar energy and oil industries may provide clues on how the 3D printing sector will play out. Both industries faced excess supply and lower demand, but these imbalances corrected over time as illustrated by the chart below: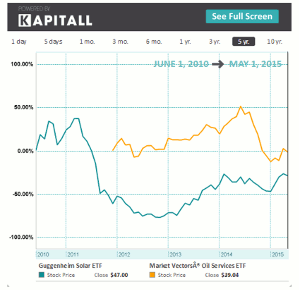 Click to Enlarge
Eventually, the share prices for 3D printings firms will bottom. Organovo Holdings (ONVO) is a 3D printing firm in the health segment whose shares are rebounding. The firm signed a collaboration deal with Merck (MRK) on April 22.
The further 3D printing stocks fall, the greater the chance becomes for consolidation and takeovers. HP may wish to accelerate growth in 3D printing by acquiring a 3D printing firm.
Click on the interactive chart to view data over time.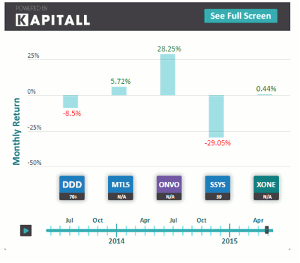 Click to Enlarge
1. 3D Systems Corporation (DDD): Engages in the design, development, manufacture, marketing, and servicing of 3D printers and related products, print materials, and services. Market cap at $2.56B, most recent closing price at $22.90.
2. Materialise NV (MTLS): Provides additive manufacturing software and 3D printing services in Europe, the Americas, and Asia. Market cap at $334.60M, most recent closing price at $7.11.
3. Organovo Holdings Inc. (ONVO): Focuses on developing and commercializing functional human tissues that could be employed in drug discovery and development, biological research, and as therapeutic implants for treatment. Market cap at $382.19M, most recent closing price at $4.75.
4. Stratasys Ltd. (SSYS): Engages in the development, manufacture, and marketing of three dimensional (3D) printing, rapid prototyping (RP), and direct digital manufacturing (DDM) systems primarily in North America, Europe, and the Asia Pacific. Market cap at $1.85B, most recent closing price at $36.29.
5. ExOne Co (XONE): Develops, manufactures, and markets three dimensional (3D) printing machines, 3D printed and other products, materials, and services. Market cap at $178.90M, most recent closing price at $12.57.
By Chris Lau of Kapitall.com