The Bigger the Base, the Higher Into Space
05/26/2015 7:00 am EST
Focus: STOCKS
If you haven't heard it put that way, chances are you've heard some sort of variation, so Greg Harmon, of Dragonfly Capital, takes a technical look at a stock that has done nothing but move in a range for the past three years and suggests that now is the time for traders to watch for a breakout.
You may have heard it put many ways. Long consolidation periods yield big moves. The bigger the base, the higher into space. This is one of the Wall Street sayings that is worth focusing on. A good case in point is AZZ Incorporated (AZZ). AZZ has done nothing but move in a range for almost three years.
Yes, for three years it has moved back and forth between about 36 and 49. Nothing guarantees it will break this range, but its past behavior suggests it is tie to watch closely. You see, it went through one of these three year consolidations before. And when it finally broke…it moved up 150%. Do I have your attention now?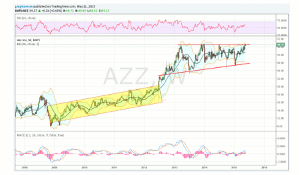 Click to Enlarge
The chart above shows that rising channel it broke to jump up to the current range. It also shows the current consolidation. This one is an ascending triangle, so it gives a projection to the upside if it breaks higher to 64. Not 150% but well worth the ride.
The rest of the indicators are what suggest that now is the time to watch more closely. As the price approaches the top of the triangle, the momentum indicators are supportive of more upside. The MACD is rising and nowhere near the peaks where it has reversed in the past. The RSI is also rising and bullish, but at its lowest level for a touch at resistance. Translation: there is room to run from the momentum.
But that is not all. The Bollinger Bands® are also opening up to allow the move to continue. This has happened before and it failed. But, remember, this time the RSI and MACD are at lower levels. Keep an eye on this one for a breakout, because when it does happen, the move will likely be fast again.
By Greg Harmon of Dragonfly Capital