Trade Setups in a Patience-Driven Market
06/02/2015 7:00 am EST
Focus: STOCKS
Ryan Mallory, of SharePlanner.com, hates this market and not because it's going up or down, but because it's not going anywhere. That being said, he still offers a few words of wisdom on how to deal with it as well as list of set-ups to trade when the market finally gives reason to.
Mind numbing...simply mind numbing.
Yes, if you haven't figured it out already, I absolutely hate this market. And it isn't because the market is going up and I'm short, or the market is going down and I'm long, it is because the market just isn't going anywhere right now and it doesn't matter which direction you are trading.
I do think it will resolve itself sooner rather than later, and if I were to guess, I would say this market is setting up for a respectable move to the downside.
We have seen repeated attempts to push the market higher this year, and after making nominal new all-time highs, the market has consistently failed to add to those highs. Instead, quickly after posting new record highs, it simply sells off to put the market back into a channeling range leaving both the bulls and the bears without an edge to trade on.
So, the name of the game here is patience. Yes, it is okay to trade, but don't trade heavy. Everything you do right now should be done with the objective of staying nimble in this market and remaining flexible enough to adjust to the ever changing market conditions.
With that said, I've provided my bullish list of trade setups for the week, but don't place trades without showing respect for market direction. Just because the trade sets up well, doesn't mean it will play out well, especially when the market is not in your favor. So, for now, stay nimble and only trade when the market gives reason to. So far on Monday, we have not had a reason.
Here's the bullish list of trade set-ups: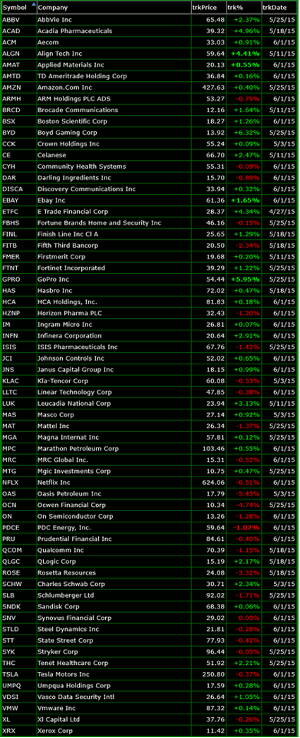 Click to Enlarge
By Ryan Mallory, Founder, SharePlanner.com