How Damaging Is Apple Music to Pandora?
06/18/2015 7:00 am EST
Focus: STOCKS
This tech goliath has now entered the already saturated music subscription service arena, so Chris Lau, of Kapitall.com, examines how this could impact other players in the space, and though not a big problem yet, what might cause the late-comer to the party to become a major threat.
Apple Music is now available to the public. What does this mean for early music streaming service Pandora?
Shareholders cannot be happy with Pandora Media (P). Apple (AAPL) is not helping the situation either, after announcing a $10 per month music subscription service called Apple Music. There are two ways to look at this: either Apple is late to the music subscription game, or Pandora, as a forerunner in the field, is still ahead and may make the best of the competition.
Apple Music costs $9.99 per month after the free, three-month trial ends. The firm is also offering a $14.99 a month subscription for families (groups up to six people).
The market had priced in the competitive pressures Apple would wield on Pandora Media back in 2014 after Apple bought Beats. Pandora had rebounded since then, moving up 20% between March and May. Pandora lost half those gains after Apple's June 8 announcement.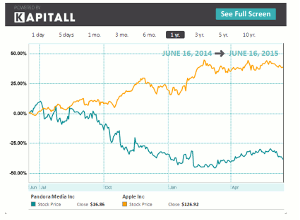 Click to Enlarge
Apple's service is in line with online music offerings like Microsoft's (MSFT) Xbox music, Tidal, Rdio, and Spotify. Amazon (AMZN) also offers playlists through its Prime service.
The streaming audio field is already saturated with many players; therefore, Apple Music should not hurt Pandora as much as the market thinks. Apple is giving up on iTunes radio, so it is re-branding its offering.
Pandora's CFO downplayed Apple's threat to its business. Even before Apple's entry, Pandora's radio streaming traffic had been on the decline. In early 2014, Pandora Radio had 5.15% of downstream traffic and 4.72% of aggregate traffic. By the second half of 2014, traffic slipped to 2.72% downstream and 2.53 aggregate. Spotify has 20 million users and is growing nicely, though this is far less than the 79.2 million active users Pandora had by the end of March. Yet, Pandora still has an impressive reach: 42.9% of all smartphone users ages 18 and older have the app on their phone.
Apple Music is not yet a major threat to Pandora. But if Pandora's smartphone falls steadily, then Apple could be a big problem.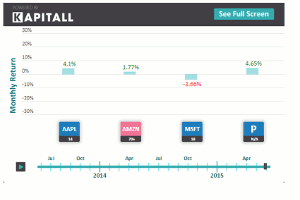 Click to Enlarge
1. Apple, Inc. (AAPL): Designs, manufactures, and markets personal computers, mobile communication and media devices, and portable digital music players, as well as sells related software, services, peripherals, networking solutions, and third-party digital content and applications worldwide. Market cap at $733.85B, most recent closing price at $126.92.
2. Amazon.com (AMZN): Operates as an online retailer in North America and internationally. Market cap at $197.91B, most recent closing price at $423.67.
3. Microsoft Corporation (MSFT): Develops, licenses, and supports a range of software products and services for various computing devices worldwide. Market cap at $373.77B, most recent closing price at $45.47.
4. Pandora Media, Inc. (P): Operates as an Internet radio company in the United States. Market cap at $3.53B, most recent closing price at $16.86.
(Monthly return data sourced from Zacks Investment Research. All other data sourced from FINVIZ.)
By Chris Lau of Kapitall.com