Two Paths in the Nasdaq 100
07/03/2015 7:00 am EST
Focus: STRATEGIES
Greg Harmon, of Dragonfly Capital, takes a technical look at the Nasdaq 100—the barometer of technology—which he thinks may be the index to watch over the next three months, since it is consolidating—like the S&P 500—but at an important level from a harmonic perspective.
The Nasdaq 100 (NDX) just might be the best index to focus on over the next three months. This barometer of the technology world is the one major US index that has not made a new high in the last 15 years. Yes, 15 years. While the S&P 500, Russell 2000 Nasdaq Composite, and even the Dow Jones Industrial Average have plowed forward, the Nasdaq 100 is still climbing back after the burst of the tech bubble in 2000.
So traders and investors looking for the clean sweep are sitting on the sidelines waiting with their party hats in hand. But as it creeps higher the index finds itself at a critical level from a technical perspective. The chart below shows the Nasdaq 100 consolidating, like the S&P 500, but at an important level from a harmonic perspective.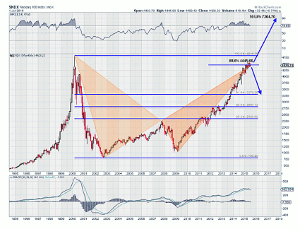 Click to Enlarge
The chart shows a bearish Bat harmonic that has formed. And with the touch of a 88.6% retracement of the initial leg, all that is left is for the reversal to happen. This would look for a move lower to at least 3278 and maybe as far as 2328.
From what I see, there are plenty of people that would be happy to see that. There is confirmation from the momentum indicators for this scenario as well. So if these people get a bit louder who can blame them. But I suspect they are not invested in the market. Seems like a slam dunk, right?
Well, the only problem with the bearish Bat is that it can morph into a bearish Crab. Both are bearish so no big deal right? Wrong! The bearish Crab would eventually be bearish, but not until the index reaches the upside target of 7304. Now that would be some move.
By Greg Harmon of Dragonfly Capital