Avoiding the Noise with Drugs—Thanks to Bristol Myers Squibb
07/10/2015 7:00 am EST
Focus: STRATEGIES
Citing the stock chart of this drug company as an example, Greg Harmon, of Dragonfly Capital, outlines a way for traders to avoid the noise by lengthening the period of time they are looking at and taking a step back on the time frame—from daily to weekly—for example.
Whenever I see someone I follow on social media talking about something extreme happening in the market, my first response is to pull up a chart of what they are talking about and see for myself. Quite often, the writer is getting caught up in a minor nuance of a move in a stock or market.
Often, because they are looking at the wrong scale or at least not one that makes sense for me. This has been happening a lot over the last few months as the indexes consolidate sideways in narrow ranges. You get used to the S&P 500 only moving 10 points in a day so a 20 point move, about 1%, becomes a catastrophe.
One way to avoid this is to shut off the noise and stay focused on your time frame. The equivalent of giving an ADHD patient their Ritalin. Bristol Myers Squibb (BMY) does not make Ritalin, but their stock chart can be used as a good example of how to avoid the noise.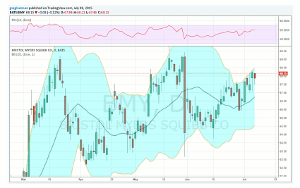 Click to Enlarge
The chart above shows the stock price action in Bristol Myers Squibb BMY over the last four months. It looks like it is going all over the place. Up a few days, down a few, a steady rise then a crash lower. In fact, all of the price action takes place in a 6 point range, 5% of the stock price each way off of the center at 66. But whatever the range, it looks pretty scary this way.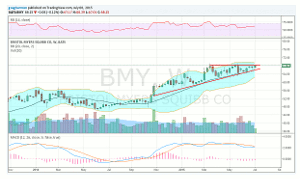 Click to Enlarge
But look at the weekly chart of the stock price over the last 18 months. It shows a totally different story. A move higher starts in November that has been consolidating against resistance with rising support since March. An ascending triangle in an uptrend. This looks pretty bullish now. And those wild swings look like nothing more than a sideways consolidation in a narrow range.
Try this with the stocks you are watching. Lengthen the period of time you are looking at and take a step back on the time frame, from daily to weekly, for example. You will sleep better and may even be able to give up your Ritalin.
By Greg Harmon of Dragonfly Capital