Wednesday's Trading Plan: Trading Around AAPL and MSFT
07/23/2015 7:00 am EST
Focus: STOCKS

Ryan Mallory, of SharePlanner.com, offers his technical outlook for Wednesday, including his take on the significant gap down on the Nasdaq due to the negative earnings reactions to the reports of these two tech giants and Ryan also shares his current biggest concern for the market.
Technical Outlook:

Sharp reaction to another test Tuesday of the all-time highs that saw SPX sell-off and dip below the 5-day moving average.
Wednesday, we are looking at a much more significant gap down on the Nasdaq due to negative earnings reactions to MSFT and AAPL reports.
Anytime you have a large gap down in excess of 1%, be very skeptical of the bear's ability to maintain that gap down. Often times the price action in the first hour of trading will mark the day's lows and see price rally back into the gap.
Wednesday, all it will take is for investors to find value in AAPL and MSFT's weakened price levels and the market will rally off of current lows. Considering the value of these companies to investors, that is very, very possible.
Unless you came into the day shorting this market, I wouldn't be chasing this market to the downside with new short positions.
My biggest ongoing concern with the market right now is the inability to establish new, clear-cut all time highs that leads to an expansion of price as well. Instead, SPX gets bogged down in the 2120-2130's range and reverses course each time.
VIX continues to maintain the 12.00 level where the reversals have all occurred at.
T2108 (% of stocks trading below the 40-day moving average) has traded lower 4 of the last 5 days and looks to continue that trend again Wednesday. It dropped 7% down to 36%.
SPX 30-minute chart was showing the potential for a base to rally off of, but that looks to be nullified at the market open Wednesday.
The market doesn't care about the economy nor earnings. That is not what is driving it. The market cares about what the Fed is doing to keep equities propped up.
My Trades:
Did not close any of my positions Tuesday.
Added one new long position Tuesday.
40% Long / 60% cash.
If price can stabilize on Nasdaq Wednesday, I may look to add one additional position on the dip Wednesday.
Chart for SPX: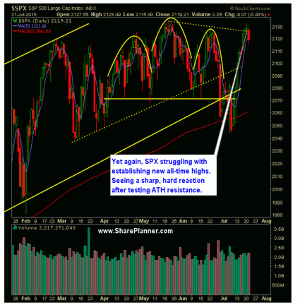 Click to Enlarge
By Ryan Mallory, Founder, SharePlanner.com