Picking Up a Seasonal Bargain in Tractor Supply
10/02/2015 7:00 am EST
Focus: STOCKS
Headed into the fall season and the fourth quarter of the year, it may be of benefit to readdress seasonality, so Greg Harmon, of Dragonfly Capital, highlights this tractor supply company, since he thinks it might be a good time to pick up the stock before farmers shut down for the winter.
Any good bargain hunter knows that seasonality plays a part in when you buy. Swimwear is cheapest at the end of summer, snow boots and pants in the spring. Well, that works for bigger ticket items as well. And in the heart of farmland it means that the repair stores are clamoring for business now before farmers shut down for the winter.
It also looks like a good time to pick up the stock of one of them, Tractor Supply Company, (TSCO). This stock had been on a tear higher from October 2014 until peaking in July. From there it pulled back with the market and made a low August 24. It has bumbled along since then.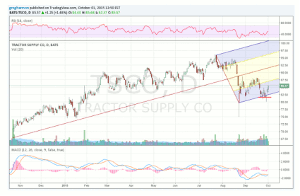 Click to Enlarge
But when you apply the Andrews Pitchfork to the price action it shows a clear buying opportunity. Using the recent 81.60 low as a stop, you can see the price moving higher off of the Lower Median Line. It has support for more upside from the rising and bullish RSI and the MACD crossing up. It is time to hitch a ride higher. For a more conservative trader or investor, a move over the prior high at 88.30 would be an alternative entry.
By Greg Harmon of Dragonfly Capital