Dunkin' Coffee and Donuts Are No Longer Hot
10/06/2015 7:00 am EST
Focus: STOCKS
Chris Lau, of Kapitall.com, offers a year-to-date price comparison between the stock of this coffee and donut chain that's struggling against that of a competitor that's having no such problems and a fast food outfit that's recently made several efforts to enhance its appeal.
Dunkin' may offer some of the best fast-food coffee, but its sales are weaker than a cup of 7-11 coffee.
Donuts and coffee are going stale. Dunkin' Brands (DNKN) is struggling with lower earnings due to weaker foot traffic at its stores. Starbucks (SBUX), on the other hand, is having no such problems. The coffee giant's stock just reached a yearly high.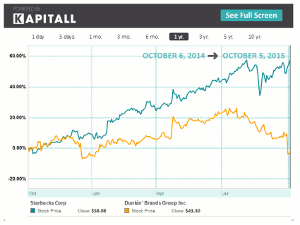 Click to Enlarge
Dunkin' Brands lowered its guidance and will close 100 domestic stores from now through 2016. However, the company will open between 200 and 300 stores overseas, including Baskin-Robbins franchises.
Without making any major investments in its stores, Dunkin' will continue to fail to win over picky customers. McDonald's (MCD), which has been struggling with customers, has made several efforts to enhance its appeal. The fast-food chain launches its all-day breakfast on Tuesday, testing an organic burger in Germany, and is even bringing in kiosks to handle orders.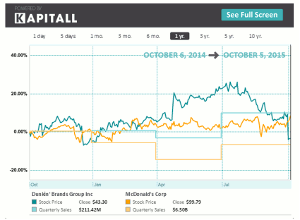 Click to Enlarge
Sales at McDonald's are set to pick up. While quarterly sales and earnings fell by 10% during the second quarter, they still beat expectations, and CEO Steve Easterbook expects to see a rebound in sales in the third quarter. In August, McDonald's Japanese same-store sales grew for the first time since January 2014.
Dunkin' Brands is aiming for 1% to 3% comparable store sales growth this year. In its second quarter, sales fell 0.1%.
Both Dunkin' Brands and McDonald's stock are moderately expensive: Dunkin's P/E is around 25, compared to McDonald's 23. Dunkin' holds $329 million in cash, but has $2.47 billion in long-term debt. This is not worrisome just yet, so long as the company's overseas expansion plan is successful.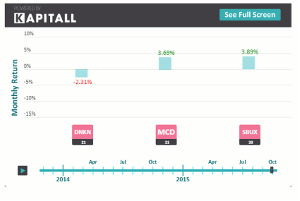 Click to Enlarge
1. Dunkin' Brands Group, Inc. (DNKN): Operates and franchises quick service restaurants worldwide. Market cap at $4.10B, most recent closing price at $43.30.
2. McDonald's Corp. (MCD): Operates as a foodservice retailer worldwide. Market cap at $95.16B, most recent closing price at $99.79.
3. Starbucks Corporation (SBUX): Operates approximately 16,858 stores, including 8,833 company-operated stores and 8,025 licensed stores. Market cap at $85.06B, most recent closing price at $58.08.
(Monthly return data sourced from Zacks Investment Research. All other data sourced from FINVIZ.)
By Chris Lau of Kapitall.com