Social Networks Embrace Video Advertising
10/19/2015 7:00 am EST
Focus: STOCKS
The staff at Kapitall.com examines the year-to-date monthly returns of three tech powerhouses in light of the fact that there seems to be a new initiative amongst social media outlets towards more video advertising and the staff offers their take on what this might mean for YouTube, the long-reigning industry leader in that regard.
Move over, YouTube. Social networks are upping their video advertising offerings to appeal to companies.
When it comes to video advertising, YouTube has long been the industry leader. And for good reason: the video platform introduced video ads way back in 2006. However, YouTube's reign may be coming to an end now that Facebook (FB) is making a huge push into video.
Out in Palo Alto, Zuckerberg and Co. are trying out several different video experiences. This includes immersive videos, such as live streaming and 360-degree video, the latter launched in September, six months after YouTube debuted the same feature on its platform. Flexible viewing options, suggested videos, a save for later option, a dedicated video channel, and improved publishing tools are some of the other features Facebook is testing out.
This could be worrisome for YouTube because, as an analyst tells Wired, Facebook users interact with and comment on videos better than YouTube users (though he doesn't clarify what better means in this context).
Facebook isn't the only social network with its sights set on video. Last Thursday, Twitter (TWTR) announced a new video advertising capability: the placement of pre-roll ads before professionally-produced videos. And there's Snapchat, which charges roughly $0.02 per view for its Discover ads as well as the 10-second ads inserted in any of its stories. Re/Code points out that a 10-second spot that gets 20 million views could easily net $400,000 for the startup.
There's a lot of money to be made from video advertising. According to Mashable, spending on video advertising is projected to reach $7.77 billion this year and $11.25 billion at the end of 2017.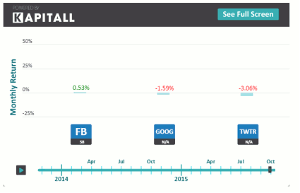 Click to Enlarge
1. Facebook, Inc. (FB): Operates as a social networking company worldwide. Market cap at $272.51B, most recent closing price at $95.96.
Facebook made $3.83 billion in advertising revenue in Q2 2015.
2. Alphabet, Inc. (GOOG): Builds technology products and provides services to organize information through its subsidiaries. Market cap at $450.83B, most recent closing price at $661.74.
Alphabet made $16.02 billion in advertising revenue in Q2 2015.
3. Twitter, Inc. (TWTR): Operates as a global platform for public self-expression and conversation in real time. Market cap at $19.88B, most recent closing price at $29.71.
Twitter made $452 million in advertising revenue in Q2 2015.
(Monthly return data sourced from Zacks Investment Research. All other data sourced from FINVIZ.)
By the Staff of Kapitall.com