Western Lithium Could Supply Shortfall with Two of the Top Lithium Assets
12/21/2015 7:00 am EST
Focus: COMMODITIES
While this lithium stock may have gotten ahead of itself when it ran from $.15 all the way to a $1, Jeb Handwerger of GoldStockTrades.com outlines how they have come way back down in price to become—once again—what he considers deeply discounted.
Investors from all over the world are clamoring for lithium stocks as it is one of the few commodities going up in price dramatically while other commodities are hitting new lows.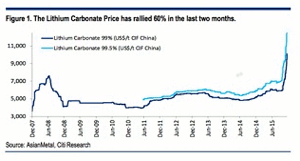 Click to Enlarge
I wrote to my subscribers about the coming lithium boom years ago as I was one of the long-term supporters of Western Lithium (TSX:WLC) (WLCDF) long before it became the top performer on the OTCQX® in 2014.
I have continued to hold shares for a long time because I believed that their Kings Valley project could one day be a productive asset, however, since they made some major institutional financings and merged with Lithium Americas, they have come way back down in price to become once again what I consider deeply discounted. The stock may have gotten ahead of itself when it ran from $.15 all the way to a $1.
Over the summer during these huge financings, combined with the merger process, I diversified into Pure Energy (TSV:PV) and Dajin Resources (TSV:DJI) which had phenomenal moves while Western Lithium declined. I think that some of the long-term Nevada investors were concerned about Western Lithium going into Argentina as that jurisdiction has recently been volatile from the previous administration and were concerned about recent share dilution to institutions.
However, that may have turned this week with the recent election of what appears to be an ousting of the previous Kirchner regime. This could boost foreign investment in Argentina especially in their high quality lithium brines which Western Lithium acquired right at what could be a major turning point for Argentina and what could be a lithium parabolic move as demand is outpacing supply.
Western Lithium is now a much stronger company with the merger, despite being down more than 50% from its highs for the following reasons. They have the top two advanced and lowest cost lithium projects. Western Lithium is partnered with Korean Giant Posco on the Argentinian Project. Posco is carrying costs of Argentinian project until initial production in 2017.
Then comes Kings Valley in Nevada into production in 2019. It may be one the lowest cost and most advanced lithium deposits in North America. It's at the Feasibility Stage with a current demo plant in Germany where they are working on advanced engineering and have produced a 99.8% high quality lithium carbonate. In 2016, Western Lithium hopes to finalize the design and the electrolysis circuit where lithium carbonate is transformed to lithium hydroxide.
Lithium is booming yet our blue chip Western Lithium is more than 50% cheaper than the approximately $8 million CAD bought deal financing it did with Dundee and Haywood back in June 2015. The terms of that financing was $.70 CAD per unit with a $.90 CAD two year 1/2 warrant. It's even significantly cheaper than the $5 million at $.54264 private placement with Bangchak Petroleum. I believe that attempts will be made over the next two years to hopefully exercise those warrants in the money as it moves closer to commercial production in Argentina. It is nice as a shareholder to have POSCO putting up the money.
NEXT PAGE: What to Look for and Where to Look
|pagebreak|
A more fair value could be possibly the $.90 CAD range where the warrants are priced that should come into the money over the next two years or at least the $.70 unit price of the recent financing. This could be a double or triple from these levels. Of course, this is dependent if the lithium sector continues to gain momentum with increased retail interest as I hope for.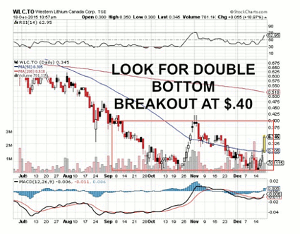 Click to Enlarge
Young investors are flocking to this sector as they follow stocks like Tesla, Google, Apple, and Amazon who all need large amounts of lithium over the next decade for their devices. As Tesla advances their gigafactory, and as more battery plants are built worldwide, more recognition will come to companies leading the way such as Western Lithium who has around $7.5 million in the bank the last I looked.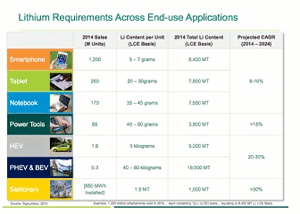 Click to Enlarge
The lithium revival could boost investment interest once again in the Canadian Markets where there are juniors finding the next decade's supply of lithium hydroxide. The large producers will be forced to acquire these situations as their assets are getting older and more expensive for nice valuations.
Right now, in my lithium portfolio I have three stocks where I hope for large gains as I believe we are still in the early stages of this lithium boom. The most advanced is Western Lithium (TSX:WLC) (WLCDF), followed by Pure Energy (TSV:PV) or (HMGLF) who is working on its PEA in Clayton Valley and then Dajin Resources (TSV:DJI) or (DJIFF) which has some exciting earlier stage lithium opportunities in both Nevada and Argentina. If this is the beginning of a boom and lithium prices continue higher, these companies could see massive re-ratings as hedge funds and momentum players begin to enter this market.
Disclosure: I am a shareholder of WLC, PE, and DJI. I bought all the shares of these stocks in the open market. I recently bought shares in WLC this week and am currently on the bid of WLC in low $.30s as of this writing. They are all Web site advertisers and I am a shareholder so I have a conflict of interest and want the value of these companies to move higher. Please do your own due diligence as this information is not for investment purposes and always consult with a registered financial advisor.
By Jeb Handwerger, Editor, GoldStockTrades.com